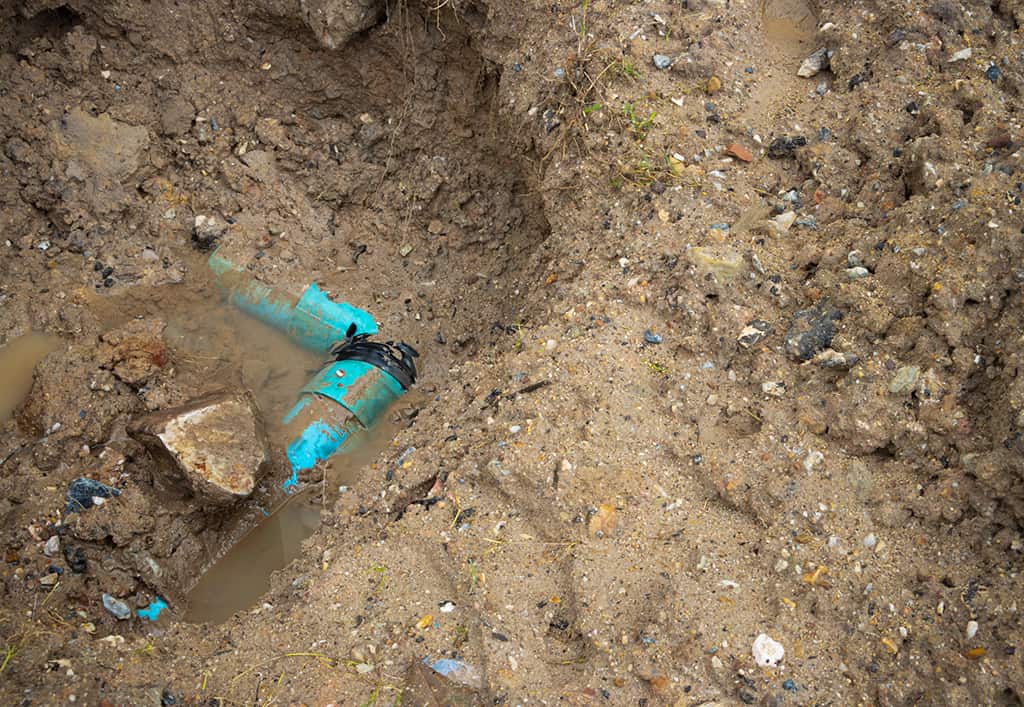 Different Methods Of Permanent Water Line Repair | Atlanta, GA
If you have ever experienced a water line break in Atlanta, GA, you know the disruption such an event can cause. Not only are your daily routines thrown off track due to having no water or potential flooding from broken lines, but routine water line repair can also drain your wallet and patience. The good news is that several solutions to water line problems can provide permanent repairs and long-term peace of mind. They include:
Pipe Replacement
If a water line is too badly damaged or deteriorated, pipe replacement may be the most practical repair solution. This method enables a damaged pipe to be completely removed and replaced with a new one that is completely functional and has no weak spots. It ensures long-lasting security, saving time and money in the long term that would otherwise be spent on frequent repairs. Moreover, this service can be used for any water line, from small residential to large commercial ones. Pipe replacement guarantees the effectiveness of water systems in terms of functionality and durability, thus serving as the ultimate permanent solution for water line repairs.
Pipe Lining
Another permanent water line solution is pipe lining, which involves inserting a flexible tube into an existing pipe and then inflating it so that it fits snugly against the walls of the existing pipe. Once inflated, the resin is injected into the tube to create a new lining inside the existing pipe. This method is particularly useful when dealing with larger pipes that cannot be easily replaced or repaired via other methods due to their size or location within your home's plumbing system. This water line repair technique can help create a long-term fix while avoiding major disruption in your Atlanta, GA home or business.
Re-Routing the Pipe
Re-routing the pipe is one of the oldest and most reliable approaches to fixing a broken water line. It eliminates all of the old, unreliable parts of the plumbing system and replaces them with a new and improved version. This method can achieve an extended lifespan for the updated pipes, especially when done correctly. Re-routing a pipe is recommended when recurring damage to the plumbing system is caused by unavoidable situations or obstacles such as tree roots or shifting of soil.
In addition, if you have been calling a plumber for water line repairs because of pressure issues from high traffic, re-routing the pipe is a great way to provide an extended fix. Re-routing can also be used to switch out pipes if you need to move a system from one location to another or are looking to upgrade from an old piping material.
Epoxy Pipe Coating
Epoxy pipe coating is a reliable and long-term solution for water line repair. This method involves coating the interior walls of the damaged pipe with a special epoxy resin. As a polymer-based material, epoxy protects against all damaging elements, including corrosion, rust, dirt, and other foreign particles. Additionally, the strong adhesion of the product ensures that it will remain intact and in place even in extreme pressure or temperature changes. Because of its versatility, epoxy can be used on multiple materials, such as steel and copper pipes and valves. This makes it a reliable and efficient solution for water line repair needs.
Factors That Determine Which Method to Choose
The options discussed above are great and permanent ways to repair a broken water line. Ultimately, the best solution for your needs depends on the following factors:
The Extent Damage
When considering which type of permanent water line repair to use, the extent of damage should be a major factor. For example, if the pipe has only a minor fracture or crack, it can probably be patched up using an epoxy resin coating. However, if there is significant decay or corrosion in the line, then replacing the pipe might be more effective in providing a long-term seal.
Your Budget
How much you plan to spend on the repair project is also a large factor in deciding which approach to take. Replacing pipes can be more expensive than other methods, while epoxy pipe coating tends to be cheaper and faster. Applying an epoxy pipe coating can be a great solution if you require a quick fix but don't have the budget to replace the entire line. Pipe lining and re-routing are cost-effective solutions, but they require more work than epoxy coating.
Preference of Your Plumber
In the end, it is important to consider the opinion of your plumber when looking into water line repairs. They will have an in-depth understanding of the best methods for repairing your pipes in a way that will prevent further issues. Consulting with an experienced professional in Atlanta, GA is the best way to ensure you make the right decision for your needs.
Be Informed – Don't Let Your Water Line Sit Broken
Water line repair can be stressful and expensive, especially if it happens regularly. But with the right approach and expert help, you can ensure that your plumbing system is safe and secure for years to come. With proper maintenance and the right repairs, you can ensure that your water lines remain functioning and reliable for a long time. When you notice an issue, don't delay – take action to get the problem fixed before it gets worse. Allowing the problem to persist can lead to more extensive damage and costlier repairs in the future. So be proactive and repair your water line quickly to ensure peace of mind.
Have an Issue with Your Water Line? Call Us for a Lasting Solution
If you have been dealing with water line problems and need help, Peach Plumbing & Drain is here to assist you. Our experienced plumbers can assist you with your water line fixing needs, from epoxy pipe coating to full replacement. We pride ourselves on providing quality service and lasting solutions to all our customers. So don't wait – give us a call today and get the repairs you need.
Photo By Bigpra at istock