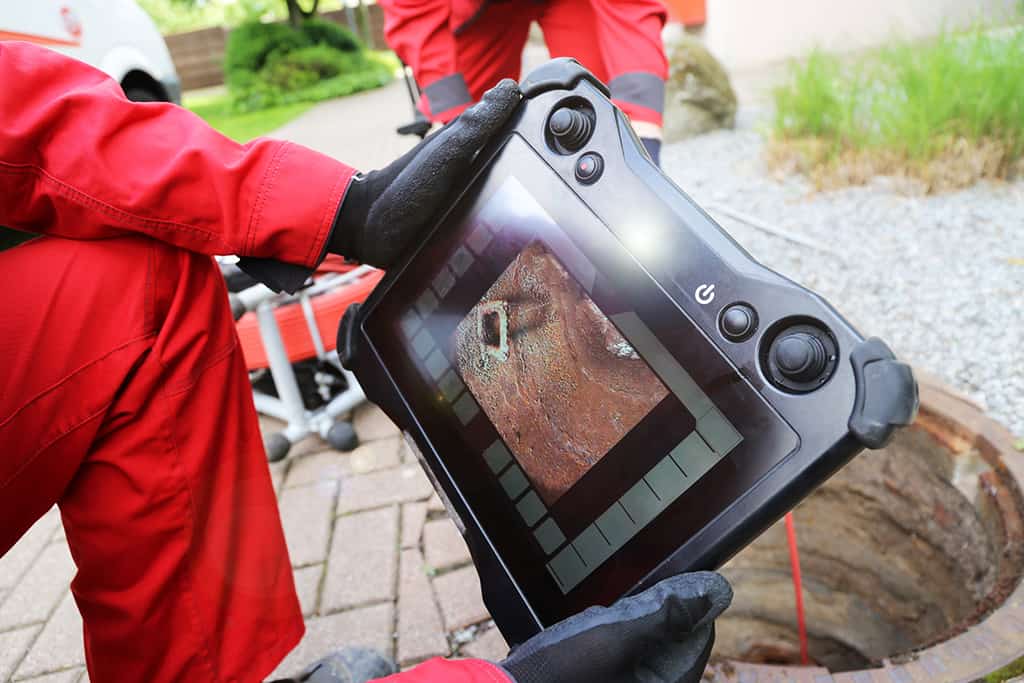 Drain Cleaning Service: How Can Camera Inspections Save You Money? | Atlanta, GA
Photo By U. J. Alexander at istock
Figuring what is happening beneath the surface of your home can prove challenging. On the surface drainage and plumbing systems, everything may work fine. Then suddenly, you are in the middle of a plumbing emergency. It may be a burst sewer line, discolored water, and the foul stench emanating from your drains. When this happens at your residential or commercial property in Atlanta, GA, call Peach Plumbing & Drain. We offer drain cleaning services to ensure that the foul stenches are a thing of the past.
Most property owners like staying prepared and saving themselves the replacement and repair costs. By contacting our plumbers for sewer camera inspections, you can help avert an impending drainage crisis. Camera inspections help property owners take the necessary precautionary measures that save them money, time, and effort to safeguard their plumbing.
What Does Sewer Camera Inspection Mean?
Sewer camera inspection comprises a small waterproof camera mounted on a flexible cable inserted into your drainage or sewage system. The flexible cable is then pushed down through the drains so that the drain cleaning technician can have a good view of the interiors of the sewage system.
These cameras can be pushed down your drainage or sewage system, whether beneath your concrete, your home's foundation, or your lawn. Most of the sewer lines are installed about 2-feet beneath the surface of your home, making physical inspections challenging to perform. So, why should you rely on camera inspections?
For Convenience
Using the traditional sewage inspection methods is inconvenient for you and your neighbors. It involves digging your yard using machinery to reach the water or sewage lines. Digging up your sewage causes foul stenches to permeate your neighborhood too. Sewage system excavation also spells horror on your lawn or yard other utilities like internet cables or power transmission lines beneath your home. To avoid incurring significant restoration and plumbing costs, contact a drain cleaning service to conduct a rigorous camera inspection of your plumbing system.
Your neighbors will not even notice that your sewage system is undergoing inspection. Furthermore, the plumbing inspection will barely take time compared to traditional methods where your sewage must be excavated.
Does Not Cause Any Mess
In the past, whenever you needed a sewage system inspection, the drain cleaning had to dig up or even potentially damage your home's foundation or lawn. The plumbers need not dig up your yard with camera inspections when undertaking plumbing inspections. Therefore, they put your home's foundation, lawn, or yard at no risk of damage. You can call your plumber for a plumbing inspection at any time without fearing that it will leave any mess behind. Hence, it saves property owners from repair and cleaning expenses attached to plumbing inspection.
Captures Visual Evidence
Though you might not think the recordings of your sewage system are riveting to watch, they are necessary when you are looking to get reimbursements from your insurance company.
When filing an insurance claim or receiving your home's plumbing repair reimbursements, it is better to have visual evidence of the sewage system before repair and after. It helps you bring a solid case to get the reimbursements.
Request your drain cleaning service to give you a copy of that sewage footage. It will prove vital if you have sewage replacement or repair insurance coverage.
Avoid Unnecessary Plumbing Replacements and Repairs
Some of the common issues in sewage systems are the tree roots that encroach the plumbing systems like sewer lines, foul smell because of the leaky pipes, blocked drains, and sewer backup. By acting promptly and at the right time, you may prevent pipe bursts or other worse things from damaging property while saving yourself costly replacements and repairs in the future. If your sewage and plumbing system malfunctions, the routine activities in your entire home can come to a standstill. You shield your home from sudden plumbing problems through proper inspections and maintenance.
Consult a drain cleaning service to know when and if your home requires a camera inspection of its piping system. It can help detect broken, leaky, and corroded pipes effectively and quickly. Hence, you can have them repaired or replaced before they become a much bigger crisis.
Locating the Hidden Faults within Your Plumbing System
Have you noticed a stench coming from around your plumbing outlets? There may be a drainage issue or a hidden leak in the sewer system. A camera inspection will give you definitive proof of whether there are underlying issues with your sewage system causing drainage problems in your home.
Although you might think that figuring out and noticing the source of a pipe leak is simple, traversing through all the plumbing pipes of your home and sewer system may take hours using the traditional methods. However, leakage detectors and camera inspection may take much less time.
Most of the time, camera inspections will catch all the problems, even the minor issues that might result in a potential massive disaster for the plumbing system at your home. When a drain cleaning service detects these problems before they escalate, it prevents potential replacements or massive repairs in the future, saving some cash.
For Inspection Purposes
Do you have thoughts about investing in a property in Atlanta, GA but are unsure of the sewage and plumbing system? The best choice is to call a drain cleaning service and schedule a camera inspection visit.
If you compare the costs of conducting significant repairs in your potential property and a camera inspection, you can find that a camera inspection is much more convenient and affordable. With a camera inspection, you can know what materials are the pipes made of, the age of these pipes, whether any clogs or blockages exist, whether there are leaks, and other things.
This can help you renegotiate with the realtor or seller or have them perform the repairs to the system before you buy the property. Get experienced drain cleaning service professionals from Peach Plumbing & Drain if you plan to purchase a home. Our technicians will inspect the plumbing system thoroughly to ensure you buy a home in good plumbing condition.
Drain Cleaning Services Near You
Your plumbing is a vital system for your commercial or residential property. Therefore, you have to keep it functional through routine inspection and maintenance. Traditional plumbing inspections involve digging up your yard or lawn, which may result in damages and disrupt your neighbors. With all these negatives, it is also expensive.
However, a camera inspection is convenient, cheap, and safe. You do not have to dig up your yard. Contact your drain cleaning service for a camera inspection if you notice foul stenches, rusty water, or low-pressure water. Are you planning to purchase a home in Atlanta, GA? Call Peach Plumbing & Drain for professional drain cleaning services and camera inspections today.