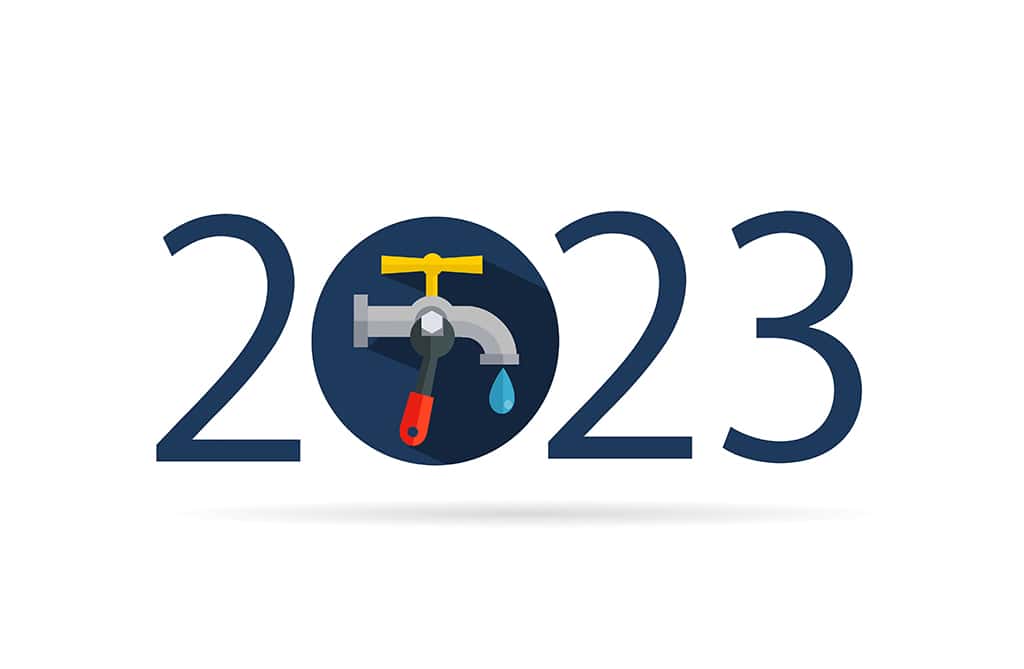 How Our Plumbing Service Can Improve Your Plumbing System In 2023 | Buckhead, GA
A new year is a time for making resolutions. But before deciding to do something that might be considered unpleasant like giving up your favorite potato chips or signing up to train for a marathon, why not resolve to set some new year home maintenance goals? Peach Plumbing & Drain can help. Our plumbing service can visit your Buckhead, GA home to perform some helpful maintenance tasks that support the longevity and functionality of your plumbing system. Although not everyone will agree, locating a hidden leak and preventing further water damage is far more gratifying than running a marathon. In the coming weeks, consider inviting our plumbing service to your home to perform the following plumbing improvement tasks.
Leak Detection
A thorough inspection of your home's plumbing system will include leak detection. Generally, we don't assume a customer has a leak unless there are some telltale signs. For instance, we might ask a customer if they've noticed any changes in their water bill. An increasing water bill without a corresponding increase in water usage is typically cause for concern as it can indicate a leak.
Sometimes customers will tell our plumbing service pros where they hear dripping. However, sometimes leaks are so well hidden that their presence isn't determined until they've done considerable damage to drywall, insulation, or flooring. It's not uncommon for hidden leaks to cause an outbreak of mold and mildew, which is often the way customers are alerted to leaks. Our trained plumber will look for signs that indicate that a leak may be present. Bumps on the ceiling or wall, for instance, can indicate a leak.
Even if you suspect that you have a small leak, don't want to call our plumbing service. A small leak can become a large one overnight. Don't risk a full-blown rupture. Let Peach Plumbing & Drain perform our inspection and leak detection service to ensure your system is working properly.
Drain and Clean the Water Heater
When was the last time you had your water heater drained and cleaned? Though not a common New Year's resolution, cleaning the water heater's tank can save you headaches down the road. It's common for sediment from hard water minerals to build up in the tank. Over time, this sediment can cause your hot water heater to work inefficiently, break down, and even fail altogether.
Our plumbing service can perform hot water heater maintenance. If your water heater is not heating water as well as it used to, tell us about it. We can perform an inspection of this appliance to determine if it needs any adjustments or replacement parts. With maintenance and timely repairs, you can keep your hot water heater working well. Removing sediment buildup in the tank supports the unit's longevity, helping you get as much value from your appliance as possible before you have to replace it.
Drain Cleaning
Many people don't invite a plumbing service to their Buckhead, GA home unless there's a problem. However, you don't have to wait for a drain clog to call Peach Plumbing & Drain for our affordable drain cleaning service. If you've noticed that your drains are slow or have been remiss now and again about allowing grease or food particles to slip down your drains, it's a good idea to contact us for our professional drain cleaning service.
Clogs are inconvenient, of course, but they're bad for your pipes too. Clogs put unwelcome pressure on pipes that can lead to loose seams and small leaks that can become large leaks. Food and other debris in the pipes can cause odors or bacteria buildup. It can even attract pests. Our plumbers can address any slow drains you might be having and provide our drain cleaning service. When your drains are maintained with drain cleaning, they'll be less likely to clog.
Leaky Fixtures
A leaky fixture might not be as problematic for your household as a clogged drain, but it will lead to water waste and increased water bills. Fixtures can leak as they age. If you need to replace a leaking and faulty fixture, our plumbing service can help. Proper installation will ensure that your faucet works well and isn't subject to leaking. Sometimes a faucet simply requires some adjusting or a small part replacement. Our plumber can inspect the fixture and recommend the ideal solution.
Check Toilets
Toilets, like faucets, are prone to leaks as they age. A toilet that is leaking around its base is a serious problem. The water can destroy flooring and cause a mold outbreak. During our inspection, we can check all the toilets in your home. We'll make sure no leaks are present and that the toilet isn't running. A running toilet can waste hundreds of gallons of water in a week–water that you'll be billed for. Our plumbing service will check your toilets and address any repair that may be needed.
Sewer Line Auger
If your home has been prone to sewer line clogs in the past, especially clogs due to tree roots, consider inviting us to auger the line. This allows us to prevent new clogs from forming and potentially damaging the sewer line. Sewer line clogs can cause messy backups. If the clog causes the pipe to rupture, the repair can be extensive. A simple cleaning of the line can head off serious sewer pipe problems.
Trust Peach Plumbing & Drain with your home's plumbing maintenance and repair needs. Our plumbers are certified and experienced. Make 2023 the year you instate a plumbing system maintenance plan for your Buckhead, GA home. Our plumbing service can tackle all your plumbing needs. Get in touch to schedule a plumbing system inspection or to schedule a plumbing maintenance service like leak detection or drain cleaning.
Photo By GagoDesign at Shutterstock