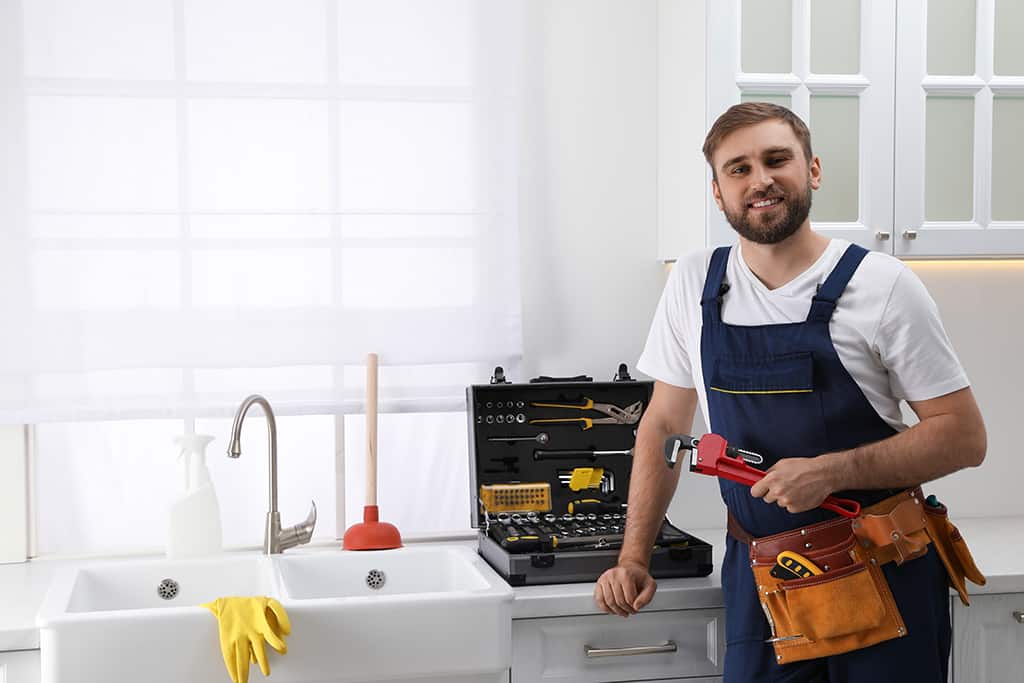 Peach Plumbing & Drain: Your Trusted Local Plumber | Atlanta, GA
Peach Plumbing & Drain has been serving Atlanta, GA for many years offers expertise and knowledge when it comes to anything regarding plumbing. Each of the Peach Plumbing team members is continually striving to improve their efficiency and increase their skill set as professional plumber. We pick the very best plumbing professionals to work for us. An ideal plumbing professional is passionate about their work and did well during their education, apprenticeship, and work experience. We want a plumber who is capable of adapting to the technology of their trade.
Any plumber who works for us must agree to a credit and background check. Peach Plumbing performs these background checks to protect our clients from any possible dangers. It takes trust to invite servicemen into one's home these days. We at Peach Plumbing only hire people we openly invite into our homes on a regular basis.
The Education and Training of a Plumbing Professional
A plumber trained for many years to become a licensed plumber with the experience and expertise to handle any plumbing installations, renovations, and repairs throughout Atlanta, Georgia. The investment of time and focus is often undervalued while plumbing and clean water are a necessity for modern life.
According to the WHO, there are 2.1 billion people in the world without running water or sanitary services. It is easy to take water and sanitary services for granted but those of us that have running water and modern sewage systems are lucky to have such clean living spaces. A plumber protects those clean spaces, maintains them, ensures that they function at a high level of efficiency.
Common Plumbing Issues
A word to the wise. If you want to protect your plumbing system, be very careful what you flush down the toilet or rinse down the sink. There are products that claim to be flushable when really they are a clog waiting to happen. Other stuff like oil, oats, flour, mashed potatoes, coffee grinds, and other bindable or hardening material can stick to the walls of your pipe and cause an obstruction. Think before you flush or rinse anything down into your plumbing network.
Wet Spots – Water collecting in various places is usually a sign that there is a leak in the pipes nearby. It can begin as a tiny droplet of water, but that droplet over time discolors and corrodes walls, floors, even stones. Water is a powerful element and leaks can be very destructive to a home or business. Another place where a leak might be responsible for a wet spot is in an overly soggy lawn that can not be attributed to rain.
Drip, Drip, Drip, Drip, Drip – Almost everyone has had the experience of dripping water keeping them up at night. It is not just annoying either, it is expensive. A dripping faucet can quickly raise your water bill to ridiculous amounts. That is why it is important to call a Peach Plumbing & Drain to efficiently and quickly stop that drip. Do not let the water keep you awake, let us fix that for you.
Bad Smells – It is normal from time to time for plumbing to have some unpleasant smells, but cleaning them and using deodorizers typically remedy the problem. However, if there is a gross scent that lingers even after you have cleaned the area, then it is time to call a professional plumber. Pipes are an ideal place for rodents, mold, mildew, and other pests to nest, grow and thrive. An expert can clean these pipes with specialized tools to remove any unwanted elements from your plumbing network. Clean pipes mean a fresher home or office. Also, It is important to have your vents cleaned professionally at least once a year.
Slow Drains: Slow drains can be due to any number of factors. You can protect your plumbing by being very careful what you put into your pipes. A regular drain cleaning service and routine maintenance by Peach Plumbing are more affordable than emergency repairs and it protects your plumbing network from unnecessary strain or misuse.
Customer Feedback
"Our plumbing system was getting long in the tooth. The house has been in our family for several generations and we knew it was our turn to renovate the plumbing for the entire estate. We took our time to find the right people for the job because we knew that it would be a long-term project and we wanted a plumbing team that we could easily communicate with. More importantly, we wanted expert plumbers who stand by their original pricing, deadlines, and other commitments. Trust is essential when you are investing in such a huge renovation like we were. To complicate things, we decided to travel abroad while the work was going on. It is difficult living in a house without plumbing. We had wanted to visit Costa Rica for several years. We decided to go while the work was being done but we had not found the right plumbers for the job. My wife actually met the proprietor of Peach Plumbing in line at the grocery store. She was talking to her sister on the phone about the renovation and he introduced himself and offered to visit the house after they checked out. We were both really impressed by the entire process with the Peach Plumbing team. My brother-in-law regularly checked up on the place and he always mentioned how clean the work areas were and how friendly the team working were. When we got back our house was like paradise. The bathroom and kitchen are beautiful and the work they did repairing the pipes has made our home a warmer more comfortable place to live. Thank you Peach Plumbing!
Walter Ebbington, Atlanta, Georgia
"Our problems started when the toilet would not flush completely. It would take two or three tries before it cleared. Then it would only flush every now and then. Eventually, the toilet stopped flushing altogether. I have had plumbing problems before with the kitchen sink drain being clogged. I knew the affordable and fast option was to choose Peach Plumbing. They are experts at what they do and they do not charge a fortune. Call them if you need help with your plumbing today!
Sandra and Mike Collins, Atlanta, Georgia
For any of your plumbing and drain needs in the Atlanta, GA area give Peach Plumbing & Drain today! 
Photo By New Africa at Shutterstock