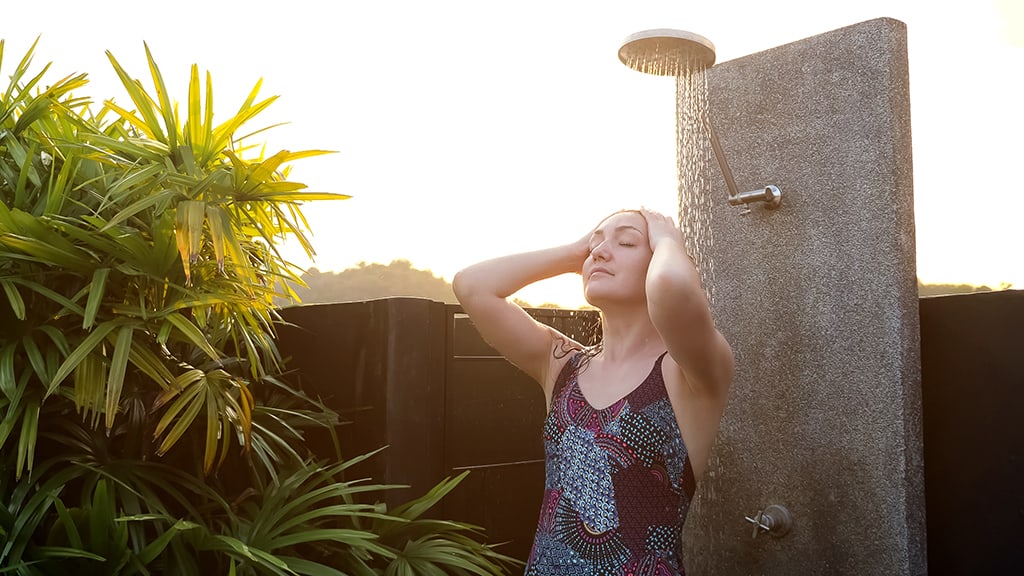 Planning Outdoor Water Features And Faucets? Let Our Plumbers Lend Their Expertise And Skill | Buckhead, GA
Photo By LENblR at istock
Plumbing for your yard can be functional, like additional hose spigots for convenience or a water connection for your sprinkler system. It can also add more enjoyment, with something as simple as a water fountain out back where the kids play sports, or a kitchen sink next to your barbecue gear so you can stay in one place as you prepare your masterpieces. At Peach Plumbing & Drain, we help our Buckhead, GA customers enjoy water throughout their property as well as in their homes.
Water Access You and Your Family Will Enjoy This Summer
Let us plan outdoor plumbing for your family that combines recreational access with practical purposes. We can run a line to your landscape islands out back that provides easy access for watering plants and gardening, and at the same time add a water fountain so kids can stop and hydrate while they're playing. It's all in the planning. Adding a water feature such as a waterfall or pond is easier when you have water supply access nearby, too, and isn't it going to feel good when you've been digging and getting into the dirt for your projects and can just stop and rinse off right there? When we run a few water lines in your yard, the options open up and there's a lot more you can do conveniently. Your plants and kids will thank you, and you might enjoy it too.
Outdoor Showers and Sinks for Cleanup
If you have a pool, you know how important it is for people to shower first before they swim to keep the pool clean. If you're like many families, the only place to rinse off is in a family bathroom indoors. Why not make it more convenient and comfortable for everyone by installing an outdoor rinsing-off space? It's also a handy feature for families with kids, who can see what's under all that dirt before everyone goes inside. Our plumbers can also install utility sinks outdoors that give you a place to wash up, get a bottle of water, or even do some dishes and keep all the summer activity outside while your kitchen stays quiet and clean.
Outdoor Kitchens and Barbecues
After a season or two of using the roll-out grill, some families realize how important cooking outdoors is to them, and they start to plan a built-in grill and prep area. Why not add a sink to that outdoor kitchen? Our plumbers can run the lines and connect up a full-service, full-sized sink that will let you bring your picnic groceries straight to the back for cleaning, prep, and cooking. It's also a great place for everyone to keep their water bottles and glasses filled without trips inside.
Sinks in Your Garage and Shed
Another way to keep things clean inside is to make sure your project spaces have their own running water as well. A utility sink in the garage gives the mechanic a place to wash off the grease and dirt, and in the wood shop it's a place to wash paint brushes and other tools without bringing them inside. Our plumbers can run hot and cold water and even provide an inline tankless water heater to ensure that you have the hot water you need without having to wait for it to run from the tank in the house.
Summer Is Perfect for Indoor Plumbing Work Too
While you're outside enjoying the weather, it's a great time to get our plumbers in to service your Buckhead, GA home's plumbing without disturbing you. We're careful and respectful throughout the year, even for emergency visits, but during the summer it can be easier to do bigger jobs like re-plumbing old pipes, replacing a water heater, hunting down a hidden leak, renovating kitchens and bathrooms, and performing whole-house drain service. When our team gets to work on your home during the summer, you know what follows: enjoying smooth-flowing drains, plenty of hot water, new living spaces, and fewer leak worries as the seasons change to colder weather.
Water Line and Outdoor Plumbing Concerns
If your water pressure is low or unstable, let us take a look at what's going on. Summer is a good time to look for leaks in the water line or other related trouble, and if digging is necessary, you'll have time to restore the landscaping or grass to let it take hold before fall. This is also a great time to check your outdoor plumbing, including pipes and faucets that are in unheated indoor areas, to make sure that they're protected against sudden freezes this winter. Frozen pipes are increasingly a concern in the south, too, and many homeowners aren't prepared. A bit of preventive care from our plumber now can save pipe bursts and water damage later.
Drain and Sewer Trouble
Drain service, as we mentioned, is a good thing to plan in the summer when we can go through your home and make sure that your drain lines are clear and in good shape. When school starts up and everyone's busy, you'll relax knowing that you'll have much less chance of needing an emergency plumber call. We can also take a video look at your sewer line and make sure it's functioning well without issues. If we see potential problems, catching them early and talking about your options while the weather's good and there's no emergency is a big advantage.
Your On-Call and Can-Do Plumber Serving the Buckhead, GA Area
At Peach Plumbing & Drain, we're here for our customers whether they have a late-night plumbing emergency or a dream of what their property could be that calls for plumbers who know their trade. We're also your resource for plumbing concerns such as water supply issues, hidden leaks, or sewer and drain issues. We're the one professional plumber you need year-round and we're looking forward to hearing from you, so call today and get to know us.