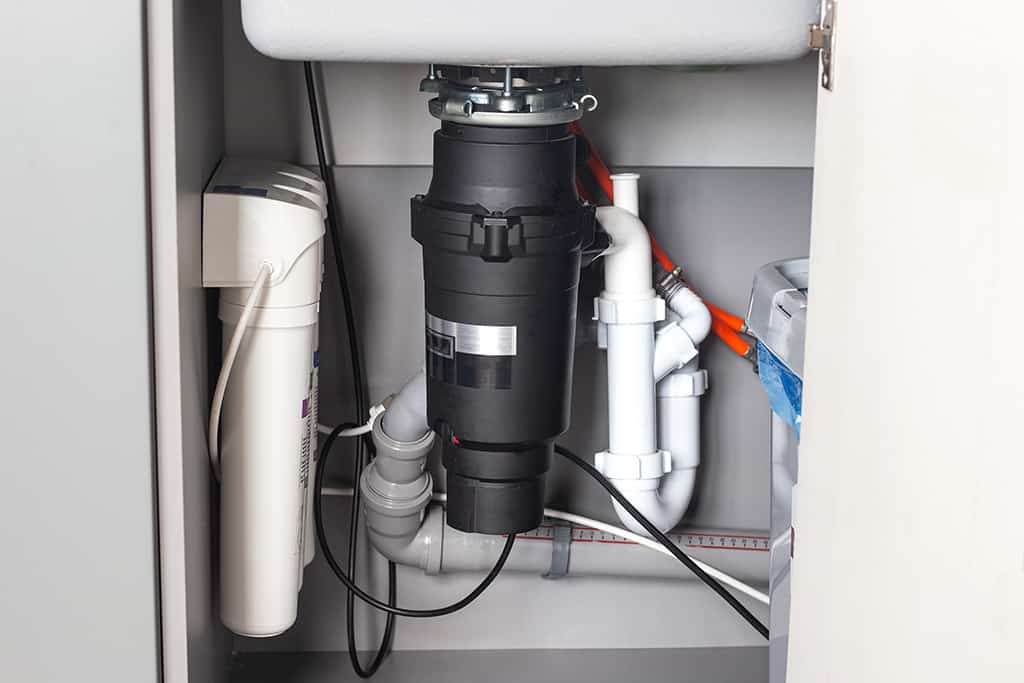 Plumber Tips: 7 Signs Your Garbage Disposal May Be In Trouble | Atlanta, GA
Photo By Korovina Anastasia at Shutterstock
You likely depend on your garbage disposal to help you manage food waste at home. However, when the unit is damaged or clogged, it can prevent you from grinding food, and your kitchen may have unpleasant smells. This article will talk about common problems homeowners face with their garbage disposals and what to do when they happen. If you need more assistance, call a plumber in Atlanta, GA, right away so they can help you fix the problem.
Common garbage disposal issues:
Smelly Garbage Disposal
Unpleasant smells coming from the garbage disposal will cause you to lose your appetite. Your entire kitchen will smell, and that's never a good thing. Sometimes, unpleasant odors don't mean there is something wrong with the garbage disposal, it does mean that it's time to clean it properly. That's the only way to get rid of the pungent smell coming from your unit. When cleaning, use baking soda and vinegar as they're effective in eliminating bad odors. You may also use lemon to add a fresh scent to the garbage disposal.
Part of the garbage disposal's maintenance routine is regular cleaning, as that can help extend the lifespan of your system and keep its efficiency. If there are other issues with your garbage disposal, don't hesitate to contact a plumber in Atlanta, GA.
Humming Sound
Do you hear humming sounds from the garbage disposal after turning it on, and it doesn't do anything else? The garbage disposal could be jammed, or it could also be due to the electrical connection. If you suspect it's a plumbing-related problem, then call a plumbing professional for help. Otherwise, contact an electrician in your area so they can check the wirings.
Smoking from the Garbage Disposal
If you see smoke coming from the garbage disposal, it could signify that the disposal's motor is failing. Another reason could be a short circuit problem. Call a professional for a thorough inspection of your garbage disposal. A professional can help you diagnose the problem and then resolve it safely and promptly. Depending on the damage and the age of the garbage disposal, the plumber may ask you if you want to either repair or replace the garbage disposal.
Jammed Garbage Disposal
When the garbage disposal is jammed, you will likely hear a humming sound, and the water may back up into the sink. Some of the common culprits of jammed garbage disposal are eggshells, fat and oil, bones, stringy vegetables, and other non-food items that you throw in your unit. You can prevent this problem when you are mindful of what you throw in your garbage disposal. Make sure that your entire family is aware of how to use it correctly.
Contact a professional to help you fix a jammed garbage disposal. A licensed professional would first inspect your unit, discuss the problem with you and then resolve it the best way they can.
Garbage Disposal Doesn't Do Anything
There could be a number of reasons why the garbage disposal isn't doing what it's supposed to do. The plug could be loose, or the electrical switch may need to be replaced. Another problem could be the overloaded motor or the circuit breaker. Consider resetting the garbage disposal first to see if it fixes the problem. If it doesn't, contact a plumber as soon as possible so they can check the disposal and fix the problem for you. When the problem isn't plumbing-related, then consider contacting the electrician for help.
Leaks in the Garbage Disposal
Homeowners planning to install garbage disposal must only work with a licensed plumber to ensure proper installation of the appliance. There are risks involved in hiring an unqualified person to do the job, and one of them is garbage disposal leaks. They can leak from the side, bottom, top, and even into the dishwasher. While this can be fixed by replacing the O-ring, it's always better not to encounter this problem as it can be stressful and costly, especially when you have to call a plumbing professional for help. To avoid other issues with the garbage disposal, only work with a licensed professional for installation.
Noisy Garbage Disposal
Do you hear grinding sounds coming from the garbage disposal? Something could be stuck in the blades, or some of the components may be loose. Please work with a plumber and don't try to fix this on your own. It can be dangerous to fix the garbage disposal, especially when you don't have any experience. Call a professional to help you alleviate the problem.
Expert Garbage Disposal Tips
Keep your garbage disposal in top shape with these helpful tips:
Know how to use the garbage disposal properly. While the garbage disposal is designed for grinding food scraps, it doesn't mean that you can throw anything there. You can't throw grease, animal bones, and large food particles as that will clog the garbage disposal. It will reduce its efficiency and its lifespan.

Break up large food particles. Help your garbage disposal by breaking up food into smaller pieces and use cold water when running the garbage disposal. Cold water prevents grease from clogging your unit.

Grind ice cubes and lemon. Ice cubes keep your garbage disposal's blade sharp while the lemon freshens it.

Reset it when acting up. When your unit doesn't work, sometimes you need to reset it. You don't need to call a plumber, right; try resetting it first to see if it works.
Contact Peach Plumbing & Drain
Do you need a plumber in Atlanta, GA, for garbage disposal repairs or installations? Call Peach Plumbing & Drain for help! Our plumbers are highly experienced and skilled in taking care of any garbage disposal problem. We'll make sure you are delighted with our service on every appointment. Call us today!