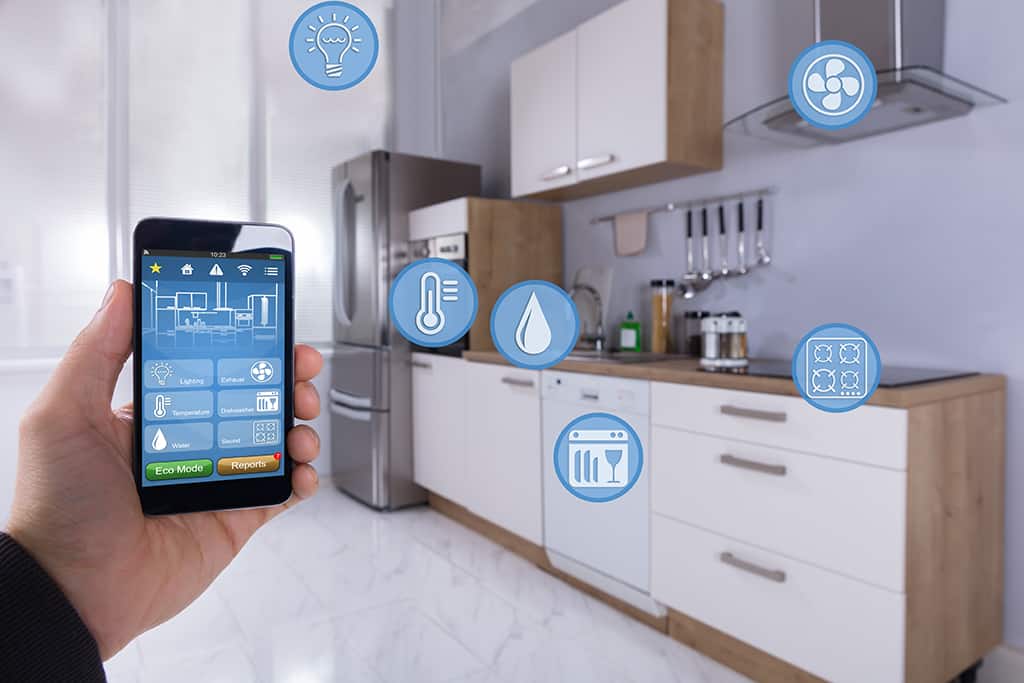 Plumbing Service: How Smart Home Technologies Can Help Homeowners With Their Plumbing | Sandy Springs, GA
Photo By Andrey_Popov at Shutterstock
From intelligent kitchen faucets to smart appliances which save water and make your life easier, smart home technologies can make a big difference in your home. It can even help you watch for trouble when you're away, reaching out to you if a door or window is opened or your heating system fails. What you may not realize is that smart home technology can help you keep an eye on your plumbing as well, and help you get Peach Plumbing & Drain plumbing service on the way if problems arise in Sandy Springs, GA. From spot flood detection that watches your basement and keeps an eye out in bathrooms, to whole-house sensors that detect major problems and shut off your water automatically so you can have our plumbing professionals take action, new technologies have you covered where recovery and cleanup were your only courses of action in the past.
Simple, Basic, and Incredibly Useful Flood Detectors
One of the most basic sensors for plumbing leaks is the flood detector, which can provide alarms and smart home indications including app alerts when you're away from your home or vacation spot. It sits on the floor and senses even a low level of water on the floor, such as you might experience from a leaking water heater or an overflowing sink in the kids' bathroom. It helps you react to problems with plumbing or even the use of your home's plumbing and call our plumbing service since everybody forgets from time to time! These sensors are also helpful if your heating system fails and the pipes freeze, eventually leaking and potentially flooding.
Other Types of Smart Home Sensors for Plumbing
There are other ways to detect flooding problems and leaks that can catch the problem earlier, and even take action for you when the situation is serious. Our plumbing service can install them in the line for your sinks, appliances, and even your whole house water line. Imagine a device that keeps a break in your washing machine's water supply from flooding your laundry room! Of course, in that case, we also recommend having our plumbing service install stainless steel braid hoses instead of rubber ones, but it's a great example of how everyday plumbing connections can create big problems. These devices sit in your water supply line and monitor flow, and if you have them on individual sinks, appliances, or other branches of your home's water lines, you can also collect data on water usage in that area. Whole house devices can provide alerts when water demand increases, shutting off the supply for sudden surges or excessive levels of water use beyond what's typical for your home, so a water line break gets cut off instead of flooding inside your home. A follow-up notification by smartphone is a common feature for devices like these, whether they operate independently of your smart home system or as an integrated feature.
Tracking Your Home's Water Use Can Pay in Several Ways
While getting the numbers on your home's water use can help your family to rein in water use behaviors, especially during local water supply shortages, it can also help you to target your fixture upgrades for best results, and catch any leaks you didn't realize were happening. Monitoring water use can also provide important clues about your home's plumbing, indicating hidden leaks in walls or under the slab where they can go unnoticed for a long time, resulting in high water bills and also potential foundation damage. When you see a level of flow that you can't account for with open faucets, toilet flushes, and appliances operation, you know that water is going somewhere, and our plumbing service can find out where, and perform repairs.
A Temperature Sensor Can Be a Big Plumbing Help
If your home or especially your vacation home has a simple smart home temperature sensor, which is often present even in smart speakers and other devices, it can be your clue to a developing emergency. If your indoor temperature is dropping due to a heating system or electrical failure, you'll know when your plumbing is at risk, even getting an alarm from your smart home system if it's programmed to do so. You'll then know to call our plumbing service for help. These days, smart locks and smart doorbells allow you to identify our plumbing service at your door and unlock it for quick service if that's something we've arranged with you. In any case, it's a much better potential solution than hoping your sump pump handles some of it, and wet vacs and mops for the rest.
Speaking of Sump Pumps, What Do They Do When the Power Goes Out?
It's a problem many homeowners face, especially if a heavy storm brings both rain and power outages. Clearly, the typical sump pump won't operate to remove basement flooding as the water table rises. Fortunately, modern sump pumps are available that not only use battery backup to provide limited service until a plumbing service arrives with pumps or other solutions, but many also monitor water levels and provide information and alerts electronically via direct apps or smart home connections. If you don't have a generator, which these days is also often set up to provide internet notifications, a smart sump pump can be a valuable addition to your home, as strange as it may sound. While smart speakers and other gadgets can make life more fun, smart home technology is also a valuable addition to your home for its constant protection.
Your Technology-Friendly Plumbing Service in Sandy Springs, GA
Are you interested in ways you can improve your home's plumbing and add safety features to protect your investment? From drain cleaning services to installing smart home plumbing sensors, at Peach Plumbing & Drain we provide the services you need to relax and enjoy life more in Sandy Springs, GA. Call us and find out more about ways we can help!