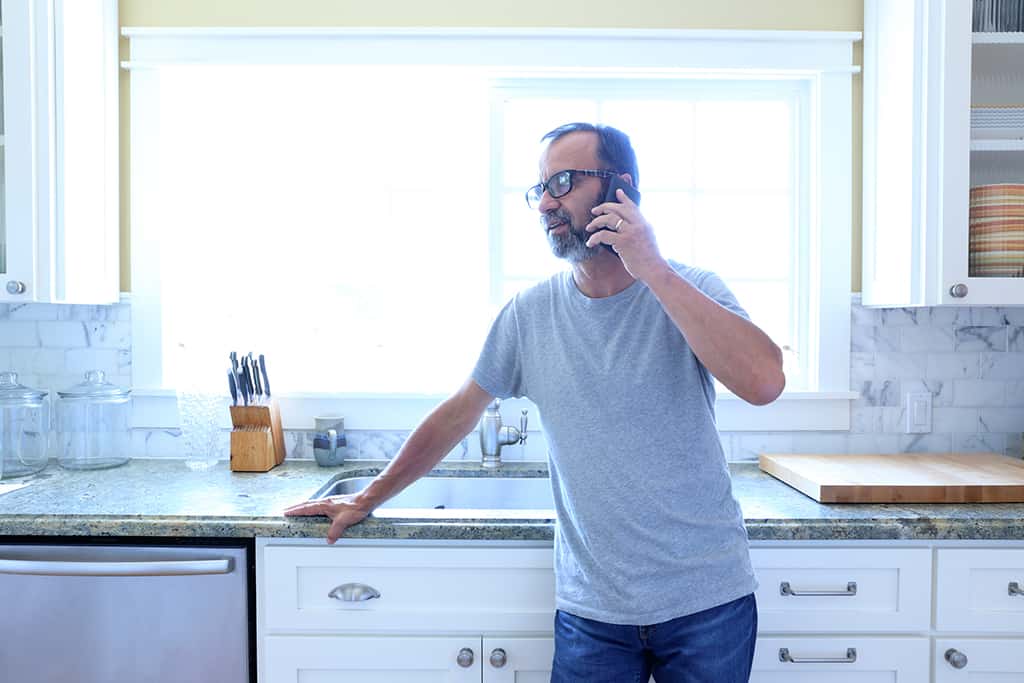 Reasons To Contact An Emergency Plumber | Sandy Springs, GA
Photo By DNY59 at istock
Plumbing emergencies do happen. The goal is to ensure they do not happen often. To ensure plumbing emergencies happen as rarely as possible, hire a preventive maintenance plumber to care for all of your plumbing care and repair needs. In the event of an actual plumbing emergency, have a professional emergency plumber repair the issue as soon as possible. Plumbing malfunctions can cause loads of property damage. The faster you repair a plumbing failure, the less damage it will cause. If you're in need of an emergency plumber and live in or around the Sandy Springs, GA, area, contact Peach Plumbing & Drain for all of your plumbing service needs.
Common Plumbing Failures
Your plumbing system is strong, yet fragile. It was designed to withstand high velocities of water pressure and constant water weathering. Plumbing systems last for a long time, with proper care and maintenance your plumbing system may last an average of 17 to 100 years. The lifespan of your plumbing system strongly relies upon how much care and attention you put into it. Other factors such as material and environmental conditions can affect the longevity of your plumbing system. However, the most important maintenance for plumbing is proactive.
Taking a proactive approach to your home's maintenance will prevent emergency plumbing situations. If you do experience any of the following plumbing malfunctions, contact an emergency electrician right away.
You Have No Water
You have just come into the house from a long day, and now you can't take a shower. The first thing you should do is check with the water company or city. They could be working on the water supply lines, and you may not have seen or gotten the memo. If this is the case, your water will return to you soon. However, if this isn't the cause of your water suddenly not working, you may have a bigger problem with your hands. Your water supply may not be bringing you water for a variety of reasons, and none of them are good. If your water isn't on and it isn't the work of your water company or city body government, contact your local plumber for immediate assessment and repair.
Some reasons you have no water could be a clogged water supply connection, corroded pipelines, or weathered and old materials. Water supply lines can become clogged from time to time. Although clogging in the water supply line isn't common, it could happen for a number of reasons. Materials that have broken off and become lodged in the pipelines can cause clogging. Weathered downpipe materials can cause serious leakage and clog. Each cause has a domino effect. The longer the problem persists, the more damage will be done. Correct this problem as soon as possible, by acquiring the assistance of an emergency plumber for urgent plumbing system repair and maintenance.
Low Water Pressure
Low water pressure is not normal. You can adjust your water pressure manually, however, other issues could be causing your water pressure to below. Low water pressure is an issue for several reasons. If there is an underlying malfunction that is causing the low water pressure it could be causing more and more damage to your plumbing system as time goes on. If your water pressure is low, and you can't find the reason for it, contact an emergency plumber right away. If you live in the Sandy Springs, GA, area, and are in need of a plumber, contact the plumbers at Peach Plumbing and Drain.
There are a couple of easy fixes that will help repair your low water pressure issues. If the cause of your low water pressure is just a partially closed water meter valve, all you need to do is open it. If the issue is the main house shutoff valve, you may just need to open it as well. If the cause of the low water pressure is the valves not being fully opened, you can simply adjust this by the turn of a nob. If the cause of the issue isn't that simple, you will need to contact an emergency plumber for immediate assistance. The underlying issue could be causing more and more damage.
Other reasons for low water pressure include pressure regulator failure and old corroded pipes. If this is the reason for your low water pressure, you have a serious issue. You should act fast and have an emergency plumber make repairs as soon as possible.
If the pressure regulator fails you may experience low water pressure or water pressure that is too high. The pressure regulator is basically a control measure. It can reduce or increase the amount of water pressure your plumbing system receives. A sudden spike or decrease in water pressure could be an indication your pressure regulator is failing or malfunctioning. Not all homes have a pressure regulator, however. If the change in pressure is sudden, it could be due to a pressure regulator failure, contact a professional emergency plumber to correct the issue as soon as possible.
If the change in water pressure is due to a corroded pipe, urgent plumbing repair is required in order for you to use your plumbing appliances without damage. Corroded pipes can easily cause leaks and breaks to occur in the water supply line. Corroded pipes can also contaminate your water and cause illness. If your low water pressure is due to a corroded pipe, stop using your water immediately, and contact an emergency plumber to prevent further damage from occurring.
No Hot Water
Having no hot water may seem like a minor inconvenience, however, having no hot water could be an indication that something is seriously wrong with your water heating appliance. To check this, you should try turning on your hot water in other areas of the house. If none of your facets is able to produce hot water, it could be that your hot water heater is malfunctioning or is in need of repair.
Whether you're experiencing a plumbing emergency or are in need of regular maintenance, contact your local professional plumber to assist you with plumbing system upkeep and repair. If you live in the area and are in need of an emergency plumber, contact Peach Plumbing & Drain.