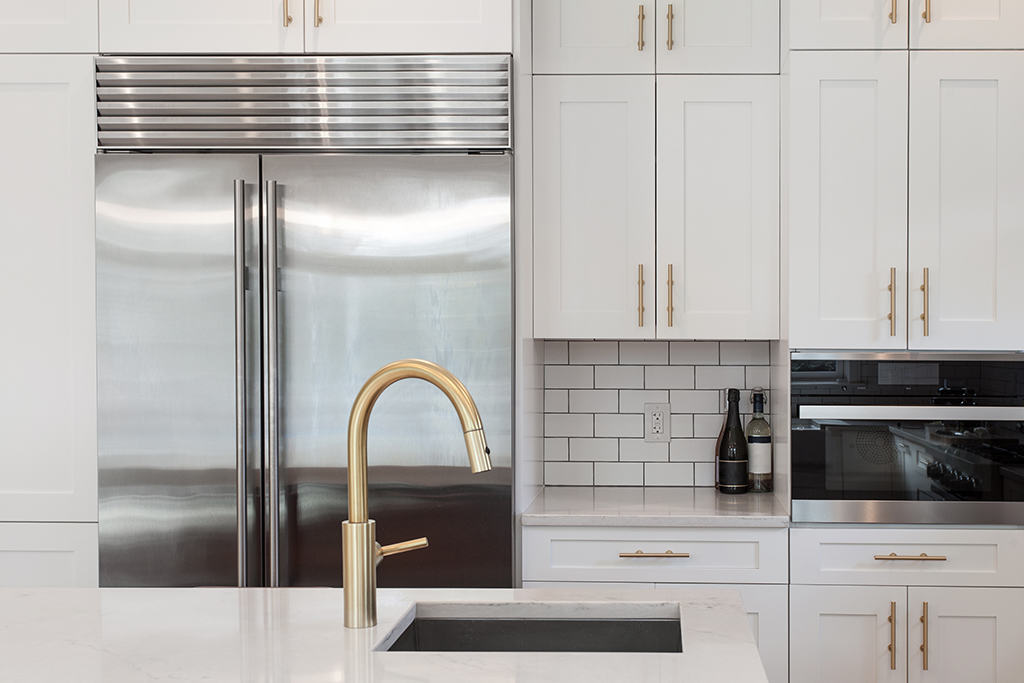 Reasons To Hire A Plumber To Install A Pull Down Faucet At Your Home | Atlanta, GA
Installing new plumbing fixtures and appliances can be overwhelming when remodeling your home. Further, it can be difficult to select or choose one design. This is particularly true when you have a range of choices. Furthermore, the fixture design must match well with the plumbing systems at your home. This gives your home an aesthetic look and overall uniformity.
Every little detail should add purpose and function with some flair, from countertops, sinks, and drains to faucets. Pull-down faucets are an elegant, multipurpose, and convenient solution. It is ergonomic and versatile and has become popular within modern living spaces. They are easy and quick to install, requiring minimal plumbing services in your Atlanta, GA home. They are also a great addition to kitchens and bathrooms.
These taps have a fine design that brings up aesthetics with optimal functionality. Available in various colors, nozzle options, and designs, their versatility, and usefulness make these faucets an astounding plumbing fixture to have a plumber install at your home. But why should you opt to have a professional install pull-down faucets in your home?
They Are Semi-Professional
Pull-down faucets' striking features make them far superior compared to other kinds of faucets. They have semi-professional abilities, making them an interesting addition in various public places. However, this doesn't mean they cannot be installed in your home. The faucets are built with superior and innovative designs inspired by professional kitchens. Therefore, pull-down faucets provide a certain level of sophistication and make your routine easy. Hiring a plumber in to have these faucets installed in your bathroom or sink can usher superior functionalities to your home.
Adding Convenience
The daily kitchen routines can sometimes be exhausting, especially when it doesn't have a spread-out layout that accommodates the distance between the cooking unit and the kitchen sink. Occasionally, the sink might be designed without considering the pot sizes. The traditional faucets might further contribute to the bane of a poor design.
Sometimes, preparing a meal for your family might be difficult as the pot isn't fitting the sink. Cooking a meal in such a circumstance might prove challenging because cooking needs favorable conditions, including rightly-sized sinks. The poor faucet designs could also make some simple tasks such as filling, rinsing, and washing quite tricky. This results in wastage of water, high water bills, and additional nuisance to your everyday life.
Additionally, according to EPA, installing water-efficient fixtures can reduce water consumption by about 20%. The pull-down faucets have a tall design that allows easy fir for the pans. They are also great for saving bills and time because of their efficient design.
Multi-Purpose Design
Among a sea of different types of faucets today, pull-down faucets stand out in many ways. However, its multipurpose design is what distinguishes it from other faucets. Whether you have to wash, fill, or rinse water, the nozzle spray of these faucets can be pulled and directed toward various uses. There are unlimited possibilities in the kitchen when you have a plumber install a pull-down faucet.
These taps come in various designs, with each fitting a specific function. The faucet's long spout makes it ideal for large pots and perfectly pans in a small kitchen sink. Pull Down faucets also significantly reduce the lag time when preparing a meal. Their spraying nozzle makes it quicker and easier to complete some tasks. These faucets may also be installed in a bathroom to optimize bathroom routines. The high water pressure makes preparing in the morning convenient, like a breeze.
If you're planning to install a perfect faucet for your Atlanta, GA, home during remodeling, pull-down faucets are perfect, and you better enlist a professional for their installation. They guarantee versatility and convenience at your home.
Ergonomic Body
The pull-down faucets feature an ergonomic and sleek body. Their innovative pull-down feature also has extended piping, giving the faucet room for maneuverability. The plumbing fixture's tall body ensures that you can place items under it comfortably. It also features a multi-functional spout that has a nozzle. The nozzle feature has several water spraying options. Hence, you can be able to direct the water in different directions.
Rather than taking your pots to the sink, you also can take the nozzle towards the pan, thanks to the pull-down faucet. Hence, these faucets guarantee a multi-fold convenience in washing, filling pots, and rinsing your dishes. Better yet, you get to save some cash on water utility bills. If you want an organized kitchen routine, having a plumber install pull-down faucets is the first step toward that. The professional will install the faucets for the best function.
Elevate the Aesthetics
The Pull-down faucet's ergonomic body and beautiful tall arc could add some style and appeal to your Atlanta, GA home. Its semi-professional body also adds an elegant touch to your kitchen or bathroom, reflecting a level of sophistication. Have a plumber install pull-down faucets at your home if you want a serious aesthetic appeal.
Pull-down faucets come in many designs, shapes, and colors, fitting different décor and lifestyles. Installing single-lever pull-down faucets can work greatly in your smaller kitchen. The two-handed faucets with an exposed body are ideal for blending with the traditional décor and reflecting the old world of charm. These faucets also come in different designs for wet bars and prep sinks for homeowners. This makes them a perfect fit for entertainment areas such as bars.
However, ensure that professional plumbers install them with enough training, tools, and experience. If installed by unskilled plumbers, you won't get a lot off them and could also damage them or your plumbing. Professionals will effectively and safely install them, ensuring that they don't develop leaks or break apart. This could mean you need to call a professional for a faucet repair service.
Reliable Plumbers in Atlanta
As you can see from above, a faucet can mean a difference in your kitchen and bathroom look and experience. However, you should first get a high-quality and classy faucet, which at times can be challenging. However, a pull-down faucet is one fixture that is semi-professional and offers many benefits. Do you want to have one installed by a professional and licensed plumber? Call us at Peach Plumbing & Drain today for a pull-down faucet installation.
Photo By erkay Demirkan at Shutterstock