5-Star Residential Plumbing Services in Atlanta, GA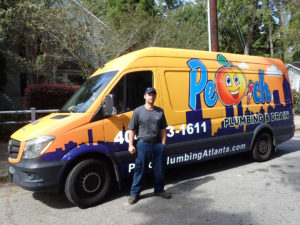 We take pride in knowing our homeowners in the Atlanta area. We watch the same games, go to the same grocery stores, eat at the same restaurants, and do "life" in the same city. This is why we know what you want when it comes to residential plumbing services in your home.
We know your time is valuable and your money is budgeted. Peach Plumbing & Drain 5-star residential plumbing services in Atlanta, GA, will make sure we fix your plumbing needs so you can go back to enjoying the same things we enjoy in this great city!
Learn more about the residential plumbing services we offer:
Emergency Service
Clogged Drains
Standard & Tankless Water Heaters
Toilets, Faucets & Sinks
Garbage Disposals
Gas Leak Detection & Repair
Hydro-Jetting
Water Softeners & Filtration
Sewer Line Service & Water Line Service
Maintenance Agreements
Backflow Prevention
Tree Root Removal
Trenchless Repairs & Video Inspection
Water Leak Detection
Residential plumbing emergency? Call us 24 / 7 /365 or fill out the form below.
---