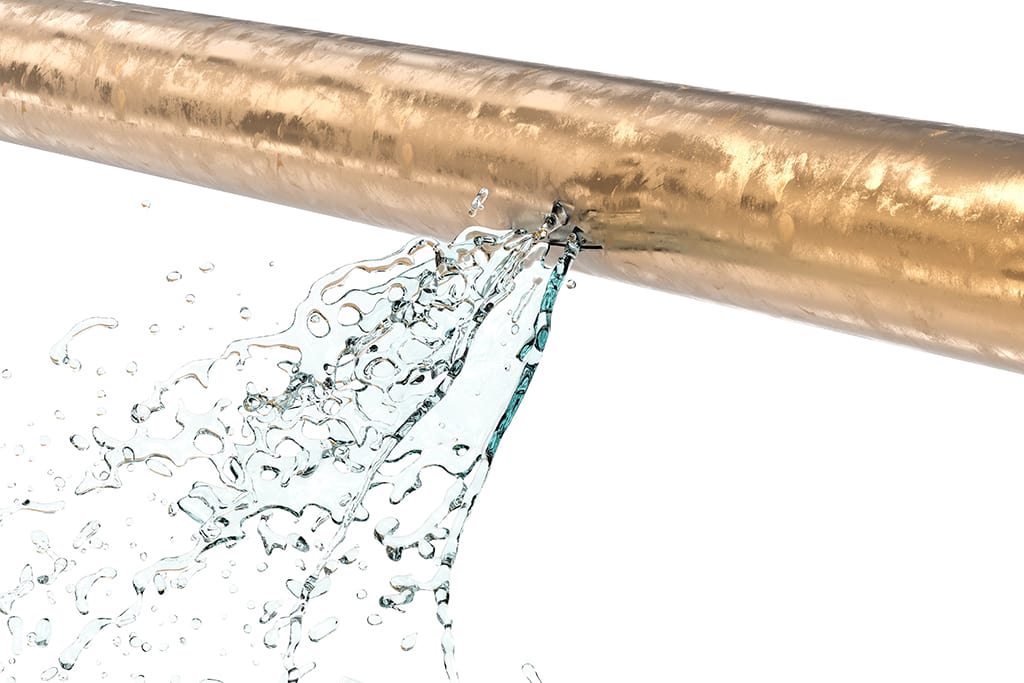 Signs Your Home Has A Slab Leak That Requires A Plumbing Repair | Atlanta, GA
Slab leaks occur when the foundation of your home begins to fail beyond what is normal wear and tear. Slab leaks can present a number of dangers to your home and family in Atlanta, GA. Our team can help you if you suspect you may have a slab-leaking problem. Since the plumbing in foundation slabs is not easily accessible to the average homeowner, we've compiled the most common signs of a leaking slab that indicate you need to book a plumbing repair ASAP.
In a nutshell, a slab leak is when water from a major pipe within your foundation has infiltrated the surrounding slab. Home builders install basic plumbing pipes to connect to appliances, sinks and toilets before laying the foundation. It can be hard to spot a leak in these pipes because they are underground. However, there are signs that you can look out for, including the following signs there is a slab leak under your home. You may not notice signs of a slab leak immediately, but it can often be present for quite some time. Here are multiple signs that you need to book a plumbing repair for a potential slab leak:
Water pressure that is lower than normal

Water bill costs are unexpectedly more expensive

Vinyl or hardwood flooring warping

Mold and mildew around baseboards

Water heater continuously running 24/7

Unexplained warm areas of your floor

You can see water under your floor or carpet without any obvious explanation (like a spill).

Visible water pooling outside the home

Unexplained lush green areas of lawn that don't match the rest of the yard
What causes a slab leak?
There are steps that you can take to protect your pipes against a slab leak. Sometimes, however, you may not be able to take any preventative steps and the best course of action is simply a plumbing repair. A slab leak can simply be caused by the age of your house. A slab leak is more likely to occur as your home ages. A plumbing inspection can help identify potential danger signs.
Your home is at greater risk of a slab leak if it has a hard water supply that contains high levels of minerals. Minerals build up over time in pipes, causing corrosion and increased pressure. To prevent your pipes from suffering further damage, you might consider installing a water softener.
Sometimes slab leaks can be caused by poor construction. When pipes are damaged or dented during construction, they will wear down faster, resulting in a premature plumbing repair. A thorough inspection of your home's plumbing can identify any potential problems so that repairs or replacements can be made quickly. In this way, it is possible to prevent slab leaks from happening.
Prevent irreversible damage to your home's foundation
Unnoticed slab leaks can cause serious damage to your foundation. This is something you do not want to happen. A plumbing repair job to fix the leaks below the slab can be expensive. It doesn't matter if your foundation is concrete or steel; slab leaks can cause severe damage to them. This directly impacts the structural integrity and strength of your home.
A slab leak can cause water pressure to build up, which could lead to foundation shifting. The best way to spot the signs is to be on the lookout for cracks around the foundation of your house. If you don't fix the cracks immediately, they could grow larger or worsen later and cause your foundation to eventually collapse. Untreated slab leakages that are not addressed by a professional plumber could cause untold damage to your Atlanta, GA house.
Professionals recommend that slab leaks should be addressed immediately if your home is older than 30 years. Because the structural integrity of your slab is compromised, slab plumbing repair costs, despite being expensive, are much cheaper than losing your home. If the foundation or slab is permanently damaged, this might occur. Don't think about the immediate; instead, look at the long-term and consider what is more important to you.
Avoid huge expenses
If you see signs of a slab leak, it is worth calling on Peach Plumbing & Drain to repair it. The problem will become more severe the longer you wait. This could lead to you having to pay more to correct an issue that could have been fixed quickly and at a lower price. There may be additional costs to fix the slab leaks if the problem gets worse over time.
If the leak is not detected in time, it can be very costly to use a plumbing repair service. The reason the cost of repair will increase is that you'll not only have to repair the damaged pipes, but you'll also have to deal with the structural damage and side effects that have potentially spread throughout your home. Plus, your home insurance company might not cover the full extent of repairs, so it's better to get it looked at early than be out-of-pocket due to a lack of insurance coverage.
Slab leaks can cause damage to furniture, carpets, tiles, or other valuable equipment in your home if you put off the plumbing repair. They can also cause damage to your toilet fittings. These expenses can put a strain upon your wallet. If you don't hire a plumber to repair your slab, you may end up spending more than if the professional was available earlier.
Avoid health issues
It could cause serious health problems for your family if a slab leak isn't fixed quickly. This is due to the mold growth that occurs when water accumulates under the foundation. Mold spores can cause respiratory problems such as wheezing, coughing and sneezing, as well as asthma. Plus, it's generally uncomfortable to be in a house that's experiencing slab leak symptoms, such as poor water pressure, damp spots, and pooling water.
Call Peach Plumbing & Drain in Atlanta, GA if you suspect a slab leak in need of plumbing repair.
Photo By Phonlamai Photo at Shutterstock