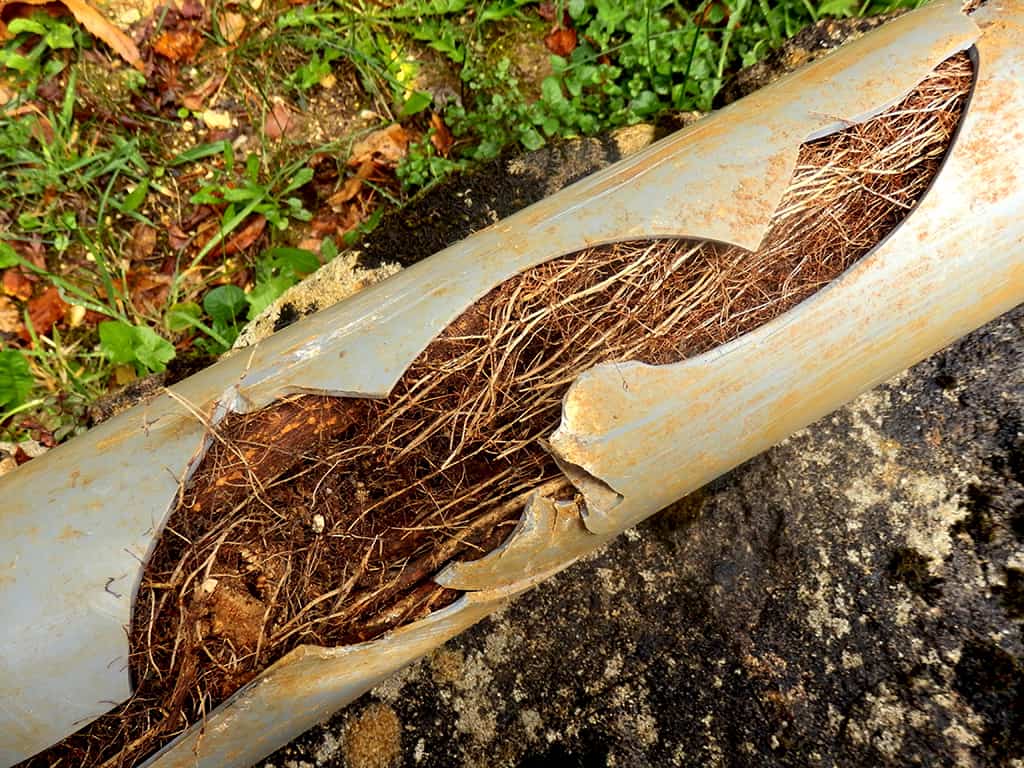 Tree Roots, Your Sewer Line, And Why You Need A Professional Emergency Plumber | Sandy Springs, GA
Photo By Stephen Farhall at Shutterstock
Tree roots in the sewer line is a common enough plumbing problem, but it's not typically a DIY prospect. Tree roots can cause serious damage to sewer lines and cause your home's drains to backup with wastewater. Unfortunately, sewer lines are vulnerable to the roots because they are filled with water and organic waste–two elements that tree roots are on the prowl for underground. Here, we'll outline what you should do if you suspect that you have tree roots growing into your Sandy Springs, GA, sewer line. In many cases, you'll need to contact your emergency plumber to address the issue quickly.
What Are Some Signs of Tree Roots in the Sewer Line?
When tree roots grow into a sewer line, they typically enter at the seams of pipe sections. Over time, these seams can become old and damaged. Tenacious roots can pry their way into the small fissures and begin growing into the pipe. Unless they are checked, they'll continue to grow and block the line. They can also cause the pipe to rupture.
Most people aren't even aware that roots have gotten into the line until there is a clog and their drains are backing up. However, there are subtle signs that you might notice before the backup stage. Ideally, you want to catch the issue with one of these signs so that you're not left with a messy wastewater backup. You should suspect a tree root issue if:
You have more than one slow drain (tree roots will bog down your entire plumbing system)

You hear gurgling sounds (most often occurs with a toilet flush)

You notice foul smells emanating from your drains

You have drain backup
If you experience any of these, you can contact your Sandy Springs, GA, emergency plumber to inspect and handle the issue.
There's a Sinkhole on My Property: Is This a Sign of Tree Roots in the Sewer Line?
If you find a sinkhole in your yard near the sewer line, you should certainly suspect that pipe damage has occurred. This damage is often a result of tree roots but it could be that a section of pipe simply collapsed because of age or a major clog. In any case, this is definitely an issue for an experienced emergency plumber or sewer and drain specialist. Don't wait to contact a professional as this situation can put your home's foundation at risk.
How Will an Emergency Plumber Handle the Situation?
Emergency plumbers have different options for contending with a tree root issue. In many cases, they will simply use a mechanical auger to cut through the tree roots. They'll then run the water for a while to flush the roots out to the main sewer line and ensure that no subsequent backup occurs. In many cases, this is the only fix required, but keep in mind that it's a temporary fix. If the pipes have been breached, the roots will grow back in time.
Sometimes the roots have damaged the pipe, causing a section to collapse. This can stop up the flow of wastewater for your entire home. This is a more substantial problem. Your emergency plumber will likely run an inline camera through the line to accurately troubleshoot the extent of the problem. In some cases, they may be able to employ advanced trenchless sewer line repair. This is a no-dig solution that is invariably preferable for homeowners who don't want the headache and mess of digging up their property to access and replace the damaged pipe.
On the other hand, if the integrity of the pipes is gone, removing earth to reach and replace the pipe is the only solution. This is a costly project but necessary. Otherwise, your plumbing system will become non-functioning with wastewater breaching your property and, likely, backing up into your home.
Is This a Problem I Can Fix Myself?
Unless you are a certified emergency plumber, you should not tackle this type of job. Your local plumbing service, like Peach Plumbing & Drain, features a team of licensed and insured plumbing technicians who manage these types of situations all the time. They have the experience and expertise needed to identify the problem correctly and apply the appropriate fix.
Moreover, Peach Plumbing & Drain has the ideal tools and equipment to manage these types of emergency plumbing situations. There's no need for clients to invest in augers, inline cameras, or other equipment needed to address major plumbing problems like tree roots.
How Do I Deal with an Ongoing Tree Root Problem
If you've contacted a professional plumber to remove tree roots from your plumbing system in the past, there's a strong likelihood that you will require such services again. Many customers ask our emergency plumbers and technicians if they should remove trees from their property to stop their roots from infiltrating their sewer line. This solution is often ineffective because underground roots can continue to grow for years. In some cases, landscaping services may be able to remove or eradicate the roots, but keep in mind that the problem could stem from a neighbor's tree roots. Under the ground, roots can grow for a long distance as they seek out water and nutrients from the earth.
Some clients choose to throw root killers down their drain on an annual basis. Sometimes this solution works. Often, the best course of action is to contact your plumber for annual root cleanouts. We can auger your drain to cut through tree roots before they can lead to a pipe blockage.
If you suspect that tree roots have infiltrated your sewer line, you can contact Peach Plumbing & Drain. We can visit your Sandy Springs, GA, area home to troubleshoot the problem and tackle it. Don't wait until your situation becomes a need for an emergency plumber. Let's address this issue before it leads to a plumbing system block.