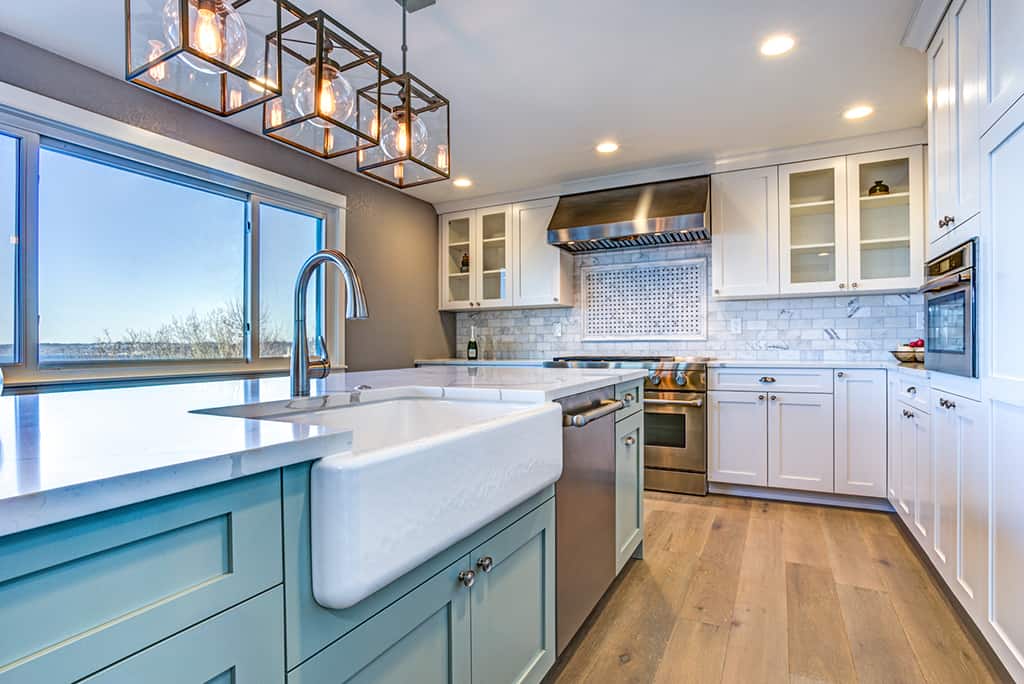 Updated Kitchens By Our Plumbing Service | Atlanta, GA
Are you looking for something to make your kitchen more convenient, unique, or beautiful? Maybe it's time for a total renovation? At Peach Plumbing & Drain, our licensed plumbers have many ways they can enhance your Atlanta, GA kitchen, from functional improvements to beautiful new sinks, faucets, and convenient bar sinks or powerful garbage disposals. If you need ideas, we have lots of those as well! Every new kitchen feature or other plumbing enhancement we install is performed by our experienced team, carefully following relevant code requirements and practical considerations. We're also your plumbing service of choice for maintenance and repairs in the Atlanta, GA area.
Did You Adapt to Your Kitchen? Does It Still Fit Your Routines?
It's fairly common for people to move into a home, establish a routine based on the existing kitchen layout and fixtures, and continue that pattern for decades. When priorities allow, or family size requires, they may start to think about better ways to organize their busy lives in the focal point of their home's activities, the kitchen. Our plumbing service has the skills and resources to change and update your kitchen's key features with the fixtures and functionality you'd like, and also to help you generate ideas.
Change Your Fixtures, Change Your Style
It's amazing what a difference simply modernizing your sink and faucet can do for your kitchen. If you're not prepared to make a full renovation, changing your leaky, low, and limited faucet and replacing your stained or chipped sink can dazzle more than you'd expect. Whether you like a clean, white look or sparkling stainless steel, our plumbing service can expertly fit the sink that fits your style, with a precision that comes from years of experience. Options for faucets and spray range from functional units that accommodate your sink usage, to elaborate, artistically designed ones and even the latest voice-enabled technology that will "fill one gallon" on command while you tend to other kitchen concerns.
Functional Features Including Commercial and Rural Kitchen Features
Do you like to do dishes in the sink, perhaps when there are only a few to put away, or pots and pans that you'd rather not fit in the dishwasher? Even a full family meal's worth can be more easily handled with the right kind of double tub sink or farmhouse style, whatever works right for you. Many kitchens have faucets that reach out like a low arm over the work area, swiveling in a fixed arc. We have much more flexible options now, even literally such as commercial-style combination spray and faucet that reach where you need them. When you don't need to bring the dishes to the water, but can do things your own way, you get better results with less effort and complexity. Let our plumbing service team show you some examples, and tell you about what others in your local area are installing in their homes.
Dishwasher and Disposal Installation to Complete the Picture
Along with a great new sink and faucet, it might be time to update your dishwasher and garbage disposal as well. An original disposal that came with the house is often underpowered for serious use, while there are plenty of models that will keep grinding for you without jams and service calls. In addition to water and energy savings, many new dishwashers are available that are so quiet, you don't have to leave the kitchen to talk when they're running. Our plumbing service can provide precision installation for both of these items, along with expert plumbing connections between them that will keep your routines hassle-free. There are a lot of details that affect operation over the years that are mostly the domain of professionals, so it's wise to check in with us and get it done right.
Expert Plumbing to Last and Avoid Repair Visits
Do you know what an air gap is? You may have one already, or a similar device that provides protection between the garbage disposal and dishwasher. Typically, the dishwasher drain combines through the disposal to a common drain, and a protective device like an air gap prevents backup from the drain into the dishwasher when things go wrong. Remember, there are lots of ways that drains can get in trouble even when the material going down is ground up by the disposal and dishwasher. Pasta and rice expand in the P-trap, absorbing water and creating a blockage, for example. All it takes is a helpful team member during a holiday celebration who doesn't know that's an issue to lead to problems, and properly plumbed drain connections will minimize the impact. Water supply lines installed by our plumbing service are also important, as with your laundry, braided stainless steel prevents bursting and serious water damage when lines stay under pressure, even when you're away on vacation.
Add-Ons That You'll Get Hooked On
Is your kitchen a destination for folks on the deck, by the pool, or barbecuing? Are the kids always coming in to get a glass of your tasty, RO-filtered water? There are plenty of reasons to have a second sink in your kitchen to leave the main one free during busy times. A bar sink fits nicely in most types of kitchens, and requires just a bit of plumbing to add this convenient feature. Our plumbing service can help!
Your Plumbing Experts with Skill and Style
Count on Peach Plumbing & Drain for all your kitchen updates, maintenance, and repairs in the plumbing services domain. We love making a difference in your daily life, both helping you avoid trouble and providing new ways to enjoy the way you live, cook, and clean up in Atlanta, GA. Is it time to toss around some ideas and look at a few possibilities? Maybe you're ready to roll and make upgrades to fit your lifestyle. We're here for you for all your plumbing needs, providing plumbing service that's a cut above. Give us a call at Peach Plumbing & Drain today!
Photo By alabn at istock