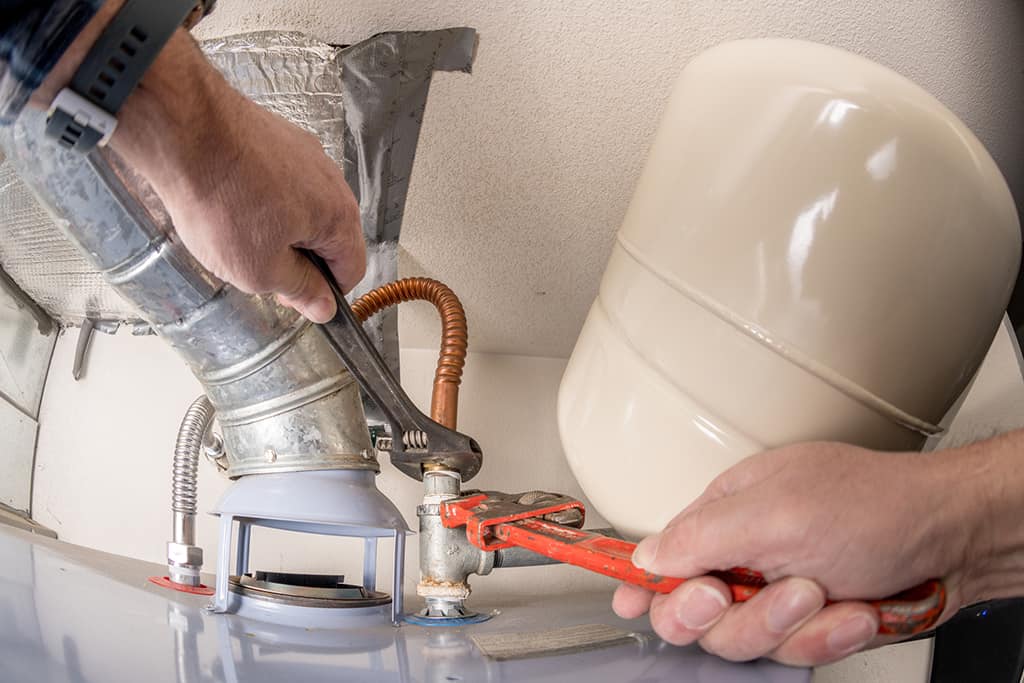 Water Heater Repair And Maintenance Protects Your Home And Keeps You Informed | Brookhaven, GA
How can we help you avoid the dreaded basement flood from a water heater that leaked or burst? There are many ways, including regular maintenance and providing updates on your water heater's condition so you know when it's time to replace it. At Peach Plumbing & Drain, we know that homeowners like to plan ahead for repairs and appliance replacements, and we do our best to give you the services and information you need in Brookhaven, GA. After all, a well-organized and planned visit from our water heater repair, maintenance, and installation team for your water heater services is much more relaxing than an emergency call for a leak or no hot water. Life has enough surprises without letting your plumbing catch you off guard unnecessarily. Our water heater repair team's extensive experience with many types of water heater equipment gives us the knowledge to serve you well, and provide helpful information.
Focusing on the Tank with Tank-Based Water Heater Types
Standard and hybrid water heater technologies rely on a holding tank, usually, forty gallons in size, that contains the water while it's being heated and keeps it hot for future use. One or two heating units with thermostats provide the heat in electric units, and gas-based units have a burner to provide heat. When the hot water supply seems limited, delayed, or isn't available at all, the problem may be traced to the operation of the heaters. For dual-heater systems, a malfunction in one can result in the top or bottom portion of the tank being heated, but not the rest, resulting in strange variations in your water heater supply. Our water heater repair team can investigate and correct the problem.
Issues with gas or electricity supply can be behind a total lack of hot water, and pilot light problems or issues with pilot light protective devices can halt the production of gas-fired hot water. Our water heater repair team also performs maintenance, and during service, visits will check both the tank integrity and the anode rod that helps protect it against corrosion. If you have water quality issues, the proper selection of anode rods can make a big difference, as they're made of several different metals or metallic combinations for different uses. Our water heater repair experts can make sure you have the right kind. They'll also check your pressure and temperature relief valve to ensure that your tank is protected against over-pressure and over-temperature situations that could lead to bursting or sometimes explosion. If you notice that the valve leaks occasionally, we can visit for a quick water heater repair to check tank pressure as well as the valve, and correct for a high temperature, faulty valve, or other situation as appropriate. Don't forget to keep stored materials, furniture, rugs, and other items away from the water heater for safety reasons, and also to protect against moisture damage from relief valve operation. Of course, if your water heater isn't replaced before the tank integrity fails and water is released in large quantities, items in a much larger area will be at risk of water damage.
Hybrid Water Heater Functional Issues
Our water heater service team is prepared to take care of your hybrid water heater as well, a device that combines tank storage and backup electric water heater operation with heat pump primary heating. The heat pump includes a compressor, support equipment such as coils, a cooling fan, and a control system. We can diagnose and provide water heater repair as well as maintain the unit so that the backup heater is tested and ready. We'll also ensure the compressor is in good shape. These units can alert you to problems through a tone and displayed error code, so you'll know when to call for service and what information to provide. We remind our customers to not reset the error tone until you've either called or made a note of the code so you can call later because so many homeowners silence the unit and continue with their busy days. If you decide that you'd like a hybrid unit instead of a traditional unit when replacement time comes, they fit in about the same location, with a little more headroom required for the heat pump system above.
Tankless Water Heater
Tankless water heaters are quite different from tank-based, taking up much less room and with, of course, no risk of tank rupture and flooding. They have the usual plumbing-related leak risks from corroded pipes, but usually a much longer lifetime than tank-based units with service often limited to the cleaning of air filters and sediment inside, sensor and control unit care, and other routine tankless water heater repairs. They are more expensive than tank-based units, and installation requires a significant energy supply not because they use a lot of power or fuel, in fact, they are less costly to operate. The reason is that they require a burst of energy to heat the water as it flows through since they don't have the luxury of time that a tank-based unit does to complete the job. Since tankless units only heat water when it's flowing to showers, washers, and sinks, they don't consume all that energy to keep the water warm like tank-based systems do. As with hybrid units, tankless systems can let you know when service is required, and they may indicate it's time for our plumber to visit, but also remind you to clean the vent to avoid a water heater shutdown.
Your Water Heater Repair, Replacement, and Maintenance Experts in Brookhaven, GA
At Peach Plumbing & Drain, we're your water heater professionals, ready to service your current system and keep track of its condition and provide a replacement water heater or different water heater technology when you need it. We're prompt, tidy, and efficient, with expert diagnosis, a well-stocked vehicle ready for most repairs, and skilled plumbers ready to respond in Brookhaven, GA. Call today for professional plumbing care.
Photo By knowlesgallery at istock