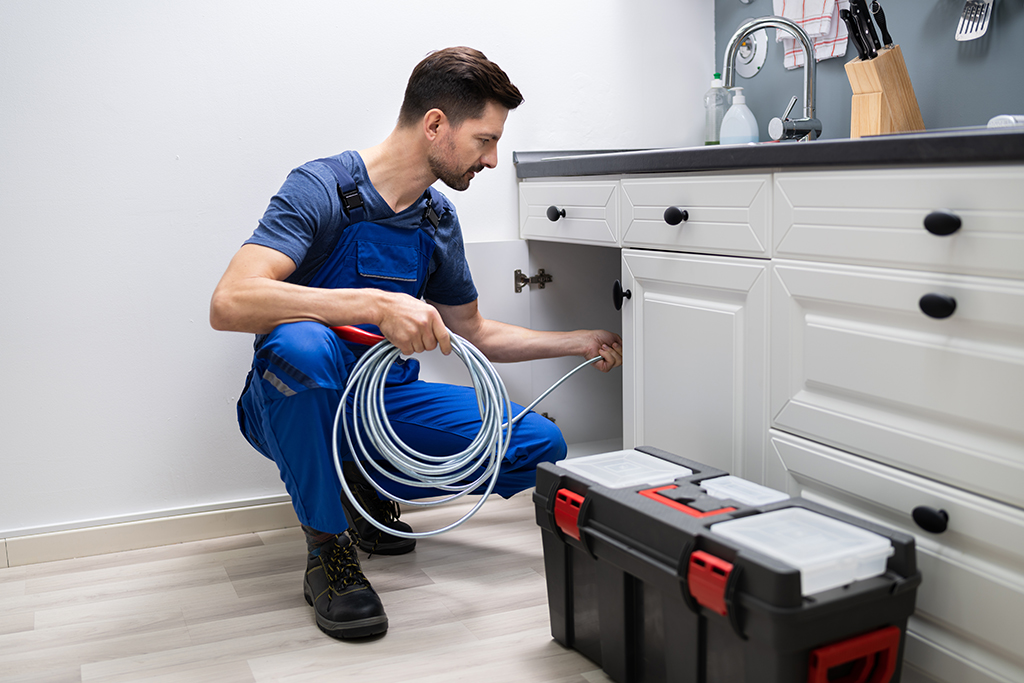 We've Got You Covered: Drain Cleaning Service To Help Your Days Flow Smoothly | Atlanta, GA
Photo By Andrey_Popov at Shutterstock
At Peach Plumbing & Drain, we have Atlanta, GA drains and sewers covered along with 24/7 emergency calls and total plumbing services. Since drains and sewer lines are some of the hardest-working parts of your home's plumbing, we want to encourage you to keep them clear with regular drain cleaning service visits to prevent buildup and identify progressive issues in their early stages. Our plumbers can take care of any drain cleaning issues that arise, from a clogged-up sink to sewer backup, and even detective work like identifying and repairing leaks in your piping.
We've Got the Tools to Keep Your Pipes Clean
We don't just clear clogs, we have the power to see the condition of your pipes and in most cases to pressure wash your pipes clean if they need it. We can use our video camera to look for objects that have fallen down drains and even retrieve valuable items like rings. We can also use our observations to choose the right strategy for clearing the drain, whether it's chewing through an obstruction or using pressure to unblock the pipe. We can also clean pipes that are in good condition by using high-pressure hydro jetting technology that cleans the walls of drain pipes so it's harder for clogs to return. These technologies are also part of our professional sewer service, allowing us to perform drain cleaning service and sewer repairs that are as simple and inexpensive as possible, based on visible evidence of the problem and often using our hydro jetting to clean sewer lines as well.
Expert Drain Cleaning Service Techniques Avoid DIY Problems
Most people have had limited success in clearing sink, toilet, and shower drains and also experienced times when the situation just seemed to get worse no matter what they tried. Our technologies and experience allow us to take the right approach and avoid problems like clogs worsened by plunger use, auger mishaps, and caustic chemicals that didn't work slowing down progress because the plumber needs to take precautions to avoid hazards. Our equipment and techniques are tried and true, and we're glad to use our skills to put them to work for our customers. Rather than disrupt your day or night with trips to the store for equipment and supplies and multiple attempts at drain clearing, why not just make a single phone call to us?
Respectful, Reliable Emergency Visits Anytime
We know that calling a plumber at odd hours of the night can be a challenge. You have an emergency on your hands, but you also want to have peace of mind that the drain cleaning service you're calling is reliable and safe to deal with. Our drain cleaning takes extra precautions to make sure you know your plumber when he or she arrives, and we respect the cleanliness of your home and the peace of mind of the people who live in it, maybe even are sleeping while we get to work on your plumbing emergency. We have families too, and we want to make sure yours can relax while we take care of their home.
You Can Help Us Provide Effective Drain Cleaning Service for Emergencies
By having your drains cleaned regularly and providing our plumber with information about possible causes for the clog, you can help us get to the heart of the matter quickly. Our plumbers always check for unexpected problems, but it also helps to know what we might find in the drain, from toys and gear such as cell phones, to personal products that may have accumulated, grease poured down non-kitchen drains, and hair in shower and tub drains. It's also helpful to know if you've partially cleared the drain before and are finally facing a clog, or whether this situation suddenly appeared. Perhaps most importantly, let us know if you're having slow drain or backup problems in multiple sinks and toilets, especially on the lower levels of your home. That can be a sign that your main sewer line needs attention right away.
Extra Services to Help You Avoid Drain Cleaning Service Calls
From cleaning out P-traps to installing and fixing drain plug mechanisms and water supply shutoff valves, we can help you avoid drain cleaning issues and slow drains, and make sure you can shut off the water supply and avoid overflows if your faucet malfunctions. In some cases, we may suggest renewing some of your piping or even performing repiping of your drain and water supply lines if the pipe material, age, or condition warrant it. In the case of drain pipes, corrosion on the inside can lead to both eventual leaks and more frequent clogs because of the rough surface of the pipe's interior. We may also recommend addressing awkward pipe joint angles and other issues that might slow your drain flow and allow material to accumulate over time. Our experienced plumbers have seen a lot, and we can offer you the benefit of our experience in maintaining your home. We want to keep you as plumbing problem-free as possible.
Remember, We're Your Complete Plumbing Service Provider, Too
Get to know us for our drain cleaning service and 24/7 emergency plumbing, but once you know us we're confident that you'll want to deal with us for your everyday plumbing needs such as appliance installation, remodeling, plumbing repairs and leak detection. Whether it's a leaky faucet and slow drain or sewer backup and water line issues, we're ready to help.
Call Peach Plumbing & Drain for Complete Plumbing and Drain Cleaning Service, Including 24/7 Emergencies.
Our Atlanta, GA area customers love our reliable service and the way that we deliver it with the customer's convenience and trust in mind. Rely on our drain cleaning service to keep your home's drains flowing, or call us anytime to unblock life's inevitable drain and sewer issues. Give us a call to schedule a visit or get someone to your home right away.