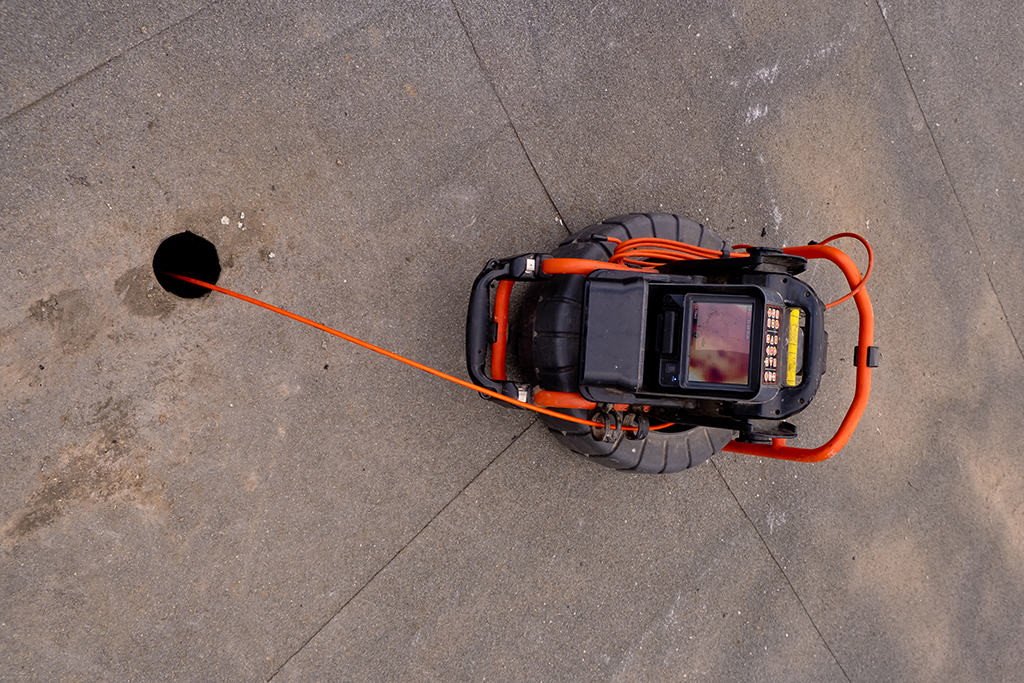 What Are The Advantages Of Using An Inline Camera During My Plumbing Repair? | Atlanta, GA
Sometimes the need for a plumbing repair is obvious. You check beneath your kitchen sink and can see the leaky valve or ruptured pipe. But as you know, much of your Atlanta, GA, home's plumbing system isn't visible. It's located under the floors, above the ceiling, or in the wall–even under the ground. To locate problems or pipe damage, sometimes it's crucial to perform an inline camera inspection. Running a camera into the line can provide an accurate picture of what repair is needed. If you suspect that you have a hidden leak or pipe damage, you can rely on Peach Plumbing & Drain. We rely on the best tools and equipment to serve our customers' needs. The sooner you call us for plumbing repair service, the sooner you can protect your property from leaks and get your plumbing system in working order again.
What Are Inline Cameras?
The plumbing industry relies on small inline cameras designed to operate within pipes. A trained plumber runs the camera through the pipe to ascertain its condition and pinpoint where a plumbing repair may be needed. The camera films the interior of the drain or sewer line and the plumber is able to watch its journey through the plumbing system on a screen. Inline cameras are necessarily waterproof and quite durable. Some can actually reach as far as 400 feet through a plumbing system, which is typically more than most residential customers need when trying to gauge a needed plumbing repair.
These camera systems are innovative and advanced, but have become quite standard and used by many plumbing companies. If you need plumbing service, an inline camera inspection may help. Although not always needed, they can be essential, especially when the problem is hidden deep within the plumbing system like a sewer line that runs underground.
What Are the Main Benefits of Inline Cameras for Plumbing Systems?
There are several reasons that your plumber might recommend using an inline camera system to explore your pipes. They are:
Define the Clog
If your plumbing system is clogged, it can be helpful to understand the nature of the clog in order to find the ideal solution. For example, if the clog is caused by grease, the solution will necessarily be different than a clog caused by tree roots in the line. There are different methods of drain cleaning, but choosing one depends on what materials make up the clog. Moreover, sometimes what seems like a clog isn't a clog but, rather, a collapsed section of pipe. If the pipe has collapsed, a pipe replacement will be needed.
Locate Line Breaks and Leaks
Plumbing system leaks can be caused by breaks in the line, but where exactly are they? An inline camera helps plumbing locate where line breaks are. Accessing pipes is sometimes difficult and requires excavation or even removal of flooring or drywall. Knowing precisely where the line breaks means less damage in trying to access the pipe to make the plumbing repair.
Find Lost Items
It's not uncommon for valuable objects like a wedding ring or earring to wash down the drain. If your jewel falls down the drain, you can contact Peach Plumbing & Drain for assistance. Provided you don't run your plumbing system, you may be able to retrieve this lost item before it flows out to your sewer line and into the city's sewer system. An inline camera inspection can pinpoint where the item is located in the drain so that it may be retrieved.
Protect Landscape
Sewer line repairs are not uncommon in Atlanta, GA. However, before inline camera inspections, plumbers had to do far more excavation of properties in order to find the exact location of a sewer line rupture or collapsed section of pipe. If excavation is needed, the camera points out where so only a smaller excavation footprint may be needed. Moreover, depending on what the camera shows, a plumbing repair known as trenchless repair may be a better option for this type of situation.
Property Inspection
Some customers contact Peach Plumbing & Drain to inspect the plumbing systems of properties they want to buy or sell. Having a report of the system's condition is important to prospective buyers. Some buyers request an inline camera inspection so they have a clear understanding of the pipes and sewer line's condition before they decide to finalize a home purchase. The condition of the plumbing system can impact sale negotiations; buyers may request that sellers make a plumbing repair or several before finalizing a real estate deal.
Inline Cameras and Licensed Plumbers
Plumbers undergo training to use inline cameras. Our plumbing company features highly trained plumbers who have years of experience. We rely on a wide range of plumbing system tools in addition to cameras. When something goes wrong with your plumbing system, it's best to let a trained professional handle the plumbing repair instead of an inexperienced or unlicensed contractor. Attempting a DIY fix can lead to more damage and require a more extensive plumbing repair. Our plumbers are professionals and known for their expertise.
If you have a leak or a clog, you can call Peach Plumbing & Drain. We can send a skilled plumber to your Atlanta, GA, home to troubleshoot the issue. In many cases, a camera inspection is unnecessary. Many plumbing problems are obvious. A broken valve or fixture typically needs repair or replacement. However, if the issue is in your sewer line and basic augering doesn't fix the problem, an inline camera inspection may be the next logical step in order to make the ideal repair to your plumbing system. Call our plumbing company if you need plumbing maintenance or repair services. We're known for our fair pricing and excellent customer service.
Photo By Leo_nik at Shutterstock