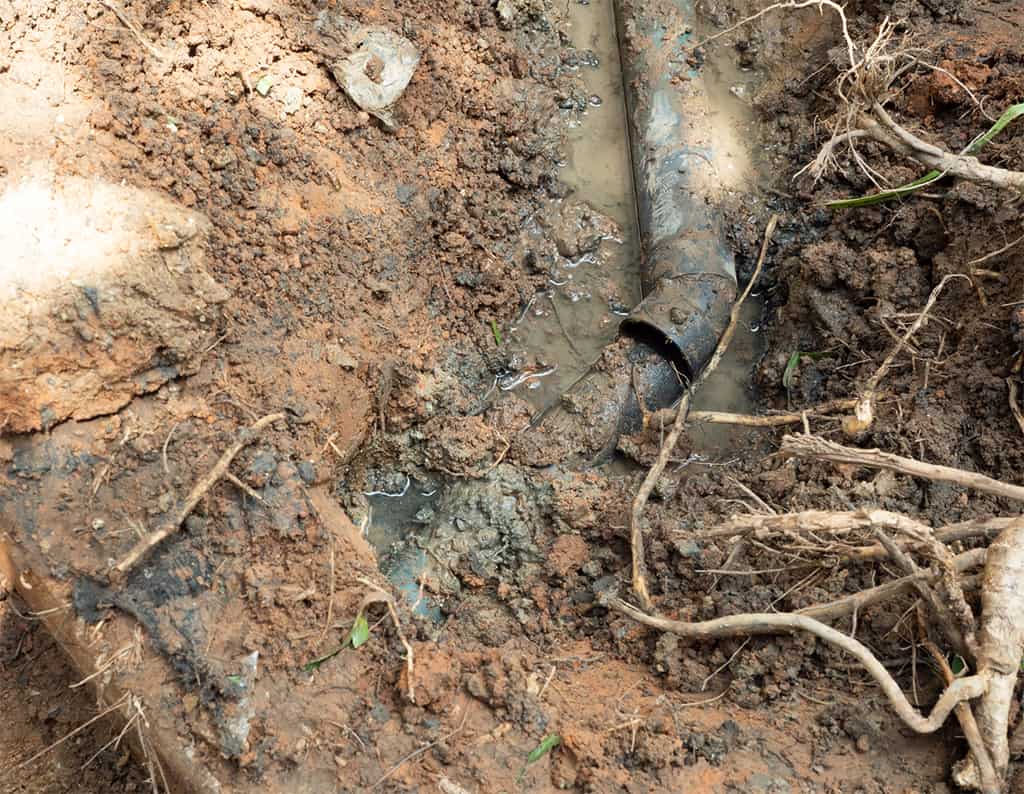 You Need An Emergency Plumber For That Sewer Line Leak | Sandy Springs, GA
If you've noticed soggy areas near the area of your property where the sewer line runs underground or the grass in the area is greener than other areas of your lawn, it's possible you have a sewer line leak. Whenever you have a plumbing leak, indoors or outdoors, it's important to contact Peach Plumbing & Drain so we can send an emergency plumber to your home to evaluate the problem and provide the ideal fix. Our plumbers are certified and experienced. We offer a complete lineup of plumbing services, so if you have a plumbing emergency like a leak or clogged drain, you can rely on us for our prompt service.
Don't Ignore a Sewer Line Leak
If you suspect that your sewer line has developed a leak, it's important to deal with it right away. Property owners are responsible for maintaining the sewer line that connects their home or commercial property to the city sewer system. Sewer line leaks and blockages aren't everyday occurrences, thank goodness, but when they happen, you need an emergency plumber to tend to the issue.
A leaking sewer line is allowing wastewater to escape into your property, which makes for an environmental problem for starters. Although the grass in the area of your sewer line might be greener, the waste that's escaping into the surrounding soil is a problem that you can't ignore. These types of leaks can attract pests like rodents and insects, providing them access to your plumbing system. Odors and mold problems can develop. In addition, the water escaping from the sewer line can even impact the foundation of your home.
Although some people might not think that a sewer line leak warrants a call to an emergency plumber as a sewer line blockage would, you can spare yourself more headaches by addressing the problem right away. Keep in mind that a leaking pipe has compromised your sewer line. It's an invitation to tree roots. A leak can also alert you to the condition of the pipe; further damage to the pipe could result in its collapse, leaving you without a working plumbing system.
A blocked sewer line will stop-up your Sandy Springs, GA home's plumbing system completely. Attempting to flush toilets, shower, wash dishes, do laundry, etc…will result in a wastewater backup into your home–a definite cause to call an emergency plumber from Peach Plumbing & Drain.
Reasons to Contact a Plumber Right Away to Address Sewer Line Leaks
Although you might not need an emergency plumber from Peach Plumbing & Drain to visit at night to address a sewer line leak, you don't want to put it off. Emergency sewer line repairs will benefit you in a number of ways, including:
Save money by preventing additional damage to the pipe

Protect your household and pets from bacteria and mold growth

Protect your home from pests like rodents and insects

Protect your home's foundation from water-saturated soil (which can lead to the foundation shifting and cracks)

Peace of mind
An emergency plumber from our team can assess the situation on your property, letting you know the extent of the damage. Once they evaluate the leak, they can provide you with an ideal solution.
How to Fix a Leaking Sewer Line
Property owners in Sandy Springs, GA have a couple of different options when it comes to sewer line remedies for leaks. One of the reasons that people might put off dealing with a sewer line clog is the idea that they'll need to dig up their property to access the pipe. Sometimes, that's the only way to address the problem, but not always.
Our emergency plumber might recommend trenchless sewer line repair. In these cases, there is no need to dig up a trench to access the pipe and replace it. This innovative repair uses the old pipe as a host. The plumber will 'inject' a resin material into the pipe. The resin adheres to the old pipe, sealing up leaks as it hardens. Once the resin cures, it quite literally becomes the new sewer line. It is long-lasting and functions wonderfully. Plus, it doesn't require excavation equipment to dig up the yard.
Unfortunately, if your emergency plumber determines that the old pipe is too damaged or the nature of the repair isn't right for the trenchless option, excavation will be necessary. There's no getting around the fact that this is a big job. However, it's necessary. Plus, once it's completed, you'll have a brand-new sewer line, which will support your property's value.
Can I Fix My Own Sewer Line?
A sewer line leak or blockage is best left to a professional emergency plumber. Your entire plumbing system depends on the sewer line; all of your home's drains flow to it. It's best to let a plumbing expert address sewer line repairs and maintenance. Moreover, you don't want to do further damage to the line or invalidate your homeowner's insurance by causing problems for your home's structure.
When you call us for service, we can send an experienced plumbing technician to your Sandy Springs, GA home to evaluate your plumbing system problem. Sewer line leaks often require inline camera inspections to determine where the leak is and how big it is. This type of inspection also lets the plumber know the overall condition of the pipe, which helps them determine if trenchless sewer line repair is possible.
If you have a sewer line issue or any other type of plumbing problem, be sure to contact us right away for our prompt service. We have a reputation for friendly service complemented by our expertise and fair pricing. Whether you need sewer repair, drain cleaning, or any other type of plumbing solution, we can help. Call Peach Plumbing & Drain to learn more about our services or to schedule a service call.
See our previous blog post here!
Photo By Anant_Kasetsinsombut at istock