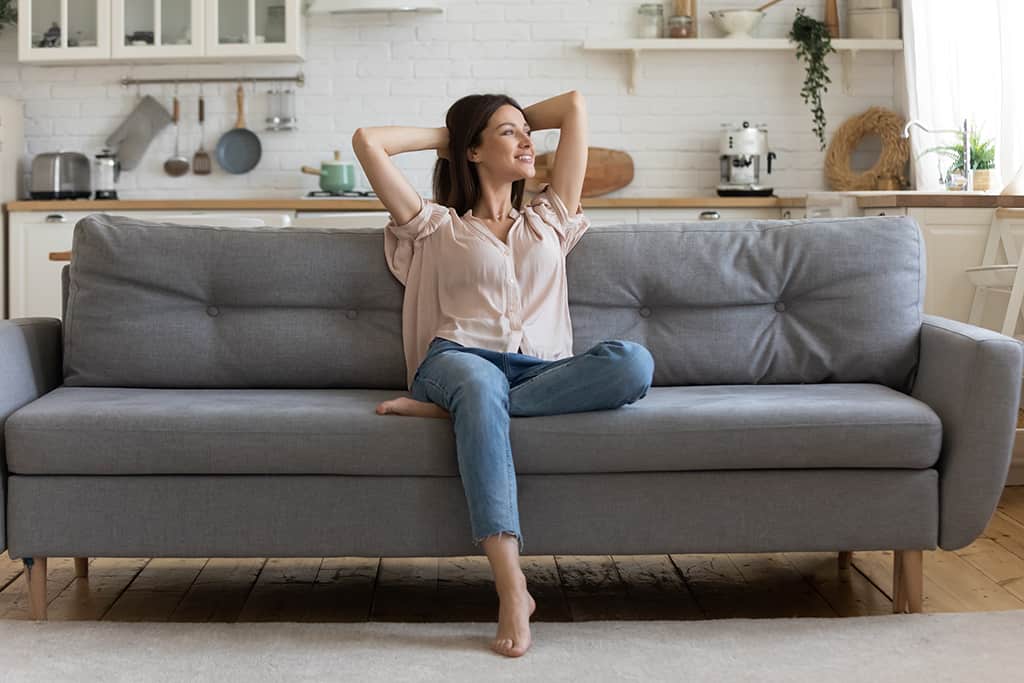 Your Low-Stress Emergency Plumber | Sandy Springs, GA
Photo By fizkes at Shutterstock
In a plumbing emergency, stress for the homeowner can run pretty high. There's not only the current crisis, possibly flooding in the process, but a boatload of "what ifs" from "What if the plumber I called doesn't come soon?" to "What if the dog gets out while they're working?" At Peach Plumbing & Drain, our emergency plumber services to our Sandy Springs, GA customers, and the surrounding area are designed to be as low-stress and low-chaos as possible. We arrive promptly, our vehicles are well-stocked with parts, and our personnel is clean, courteous, and respectful as well as highly skilled plumbers. Though it's not easy, once you've called us, you can start to relax.
If It's an Emergency, Call an Emergency Plumber
These days, it seems like the answer to everything can be found online. What can't be found is the experience that is used to make good decisions under pressure, and the skill to perform the task safely and correctly. Even if the plumbing problem seems simple, if it's an emergency, make the call. As your professional emergency plumbers, we have years of training and experience that prepared us to take care of your plumbing situation with care, even when things are getting out of hand. One thing that you can do to help in most emergency plumbing calls: let us know where your water shutoff valve is. If you don't know, we'll find it quickly too. Also, if the emergency could result in a combination of water and electricity, be extra careful about taking action before we arrive. Ask our emergency plumber dispatcher if there's anything you can do while we're on our way.
"First Things First" Helps Keep Everyone at Peace While the Situation is Addressed
Remember those "what ifs" we mentioned earlier? When we arrive the first thing we'll probably do is minimize the risk of further damage if there's been flooding or other problems. We'll keep things simple and focus on taking care of your plumbing emergency, while also making sure to respect your home and your family. We may even ask if the dog is somewhere safe. We want your home to stay clean even as we're doing our work, and it's important that your family can continue enjoying, sleeping, whatever they are doing if at all possible.
When our emergency plumbers have stabilized the situation, we'll move on to repairs and discuss them with you. If the situation is larger in scale, we'll often offer temporary solutions that will allow you to get on living and take some time to consider your options for repairs such as water line breaks and sewer problems. Our emergency plumbers are for your safety and comfort, and we want you to be able to relax and make informed decisions going forward.
Follow-up Care
After our emergency plumbers fix the clogged drain, broken pipe, water main leak, or sewer problem, or any other emergency that arises, it's a good time to talk about your plumbing in general. If you have concerns that other drains may also be getting slow, your hot water isn't like it used to be, or your water pressure isn't strong and steady, we can offer ideas. You might want to put a drain cleaning service on your schedule for the future or investigate for leaks in your water line that may be going unnoticed. We can offer some suggestions on how to detect leaks by examining your water meter movement or reviewing your water bills.
We can also drop a video camera into your sewer cleanout and do a quick inspection of your sewer line to the street, giving you some idea of where you stand as far as pipe condition and clogs. Of course, we can also make an appointment to fix faucets, add water hammer protection to get rid of that "slam" sound when your appliances run and do other small plumbing jobs in one or two visits. If you're thinking about new appliances and would like them expertly installed, let's talk about that and book a time for a new dishwasher or garbage disposal installation if you like. As your local Sandy Springs, GA professional plumber, we want you to know that we're here for anything plumbing-related in your home, emergency or not.
A Word About Drain Cleaning
As emergency plumbers, we love it when our customers have regular drain cleaning service performed, usually on an annual basis. If we're diagnosing a clog, that tells us a lot about the overall condition of the pipes. Since drain cleaning service involves cleaning or water-blasting with hydro-jet equipment through the drain lines, we know that there aren't slow-building clogs deep in the walls that are going to cause long-term trouble. In fact, drain cleaning often involves a video inspection, so we have even more information to rely on. Sewer line situations can also be identified and resolved during drain cleaning, including getting rid of large clogs that are backing up the house lines.
In some homes, older and more vulnerable pipe materials may be in need of repair or replacement, and our drain cleaning team can identify future issues like these and help avoid emergency calls when those pipes start leaking or clogging. When we remove large hair clogs that are developing in showers, bathtubs, and sinks or food clogs in the kitchen, we can also recommend appropriate strainers and practices to ensure that the solution to those issues is clearing the strainer, not calling the emergency plumber. Since a large number of our emergency calls are drain-related, taking steps to prevent drain problems is definitely a helpful strategy for homeowners.
Serving Sandy Springs, GA and the Surrounding Area, We're Peach Plumbing & Drain
We look forward to serving you and your family in times of plumbing emergency when we can help lower the stress of the event. We're also your expert plumber for repairs, upgrades, and preventive maintenance so you can relax and enjoy life. Call us for your plumbing needs!